Check out the cover to the Ghostbusters DVD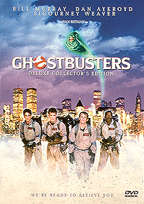 We have been able to scoop a look at Columbia Home Video's upcoming release of the cult-comedy Ghostbusters for you! Please click on the image to the left for an enlarged version of the disc's packaging artwork.
On June 29, the "Ghostbusters" will hit DVD with a blow that you will not forget so easily. The disc is stacked with extras, presented in a way that hasn't been seen before. If you have missed our announcement last week, read on, here are the details!
Apart from the film's theatrical trailer and interviews with the film's principals, the DVD version includes animated 3D action menus,
a commentary track with Harold Ramis, Ivan Reitman and Joe Medjuck, ten never-before-seen deleted scenes, three complete
featurettes including Dan Aykroyd and the original visual effects team, split-screen comparisons of the film to the animated
storyboards, "Before & After" comparison of special effects shots utilizing the multi-angle feature, an extensive production photo
gallery, storyboard and concept art galleries, and more!
The commentary track on the disc will actually be a "live" video commentary, showing Ramis, Reitman and Medjuck as
silhouettes watching the entire film and commenting on it. The viewer can chose between watching the commentary with or
without these silhouettes.
This disc also contains selectable feature-length production notes, based on "The Making Of Ghostbusters" by Don Shay, which
are placed into a subtitle stream, so that the viewer may choose to watch the film with anecdotes, trivia and bits of interviews that
pertain to particular points in the film.
The featurettes for the film will be the original 1984 "Making Of Ghostbusters" with interviews of the cast and crew, a 1999 star
featurette with new interviews with Harold Ramis, Ivan Reitman and Dan Aykroyd talking about the origins of the film, and how it
changed their lives, and finally a 1999 FX featurette with interviews with more than a dozen people from the original visual effects
team.
The disc's photo galleries will feature more than 50 original pencil and chalk conceptual drawings of ghosts and monsters, three of
these have been selected to be given away in a Columbia Home Video contest. Also included will be many of the original
storyboards sketches and hundreds of production photos taken of the SFX team sculpting monsters, creating and destroying
sets, and generating animation.
With all these extras, it is almost needless to say that the release will feature a 16×9 enhanced widescreen transfer of the film
and a 5.1 Dolby Digital soundtrack.