A look at the cover of Gods And Monsters from Universal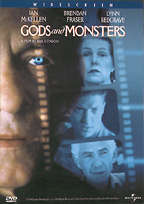 On June 8, Universal Home Video will release their Academy Award winning drama Gods And Monsters to DVD, day and date with the VHS release. Presented in an anamorphic 2.35:1 transfer and complemented with a 5.1 channel Dolby Digital soundtrack, "Gods And Monsters" will certainly be one of the summer video highlights.
The film tells the story brilliant and once-celebrated director James Whale in 1957, who helmed classic films like Frankenstein, The Invisible Man, Bride of Frankenstein and The Man With The Iron Mask. He has been relegated into obscurity – haunted by his memories and taunted by his brief taste of fame decades earlier. Frail from an earlier minor stroke, the 67 year old Whale lives in seclusion with only his memories of a bacchanalian life and his German housekeeper, Hanna. One day he notices the new groundskeeper, Boone Clayton, a handsome, not-too-bright 29 year old, and his old sense of mischief is revived.
"Gods And Monsters" will contain a 30-minute documentary as well as cast & crew bios and herewe present you the cover artwork for the upcoming DVD release. Please click on the image to the left for an enlarged version of the cover artwork.