Take a history lesson from Monty Python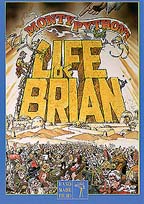 We got more information from Anchor Bay regarding their upcoming April releases in. On the left you can see the cover artwork for Monty Python's Life Of Brian. Please click on the image for a full look at the release's front and back.
"The Life Of Brian" is the gospel according to Monty Python: In Judea, a boy is born in a manger a short distance from, and about the same time, as Jesus Christ. Three wise men from the East are for a time deceived by this proximity into believing the he is the promised Messiah, but it soon becomes apparent that he is, in fact, only a hapless peasant named Brian. However, the "Life Of Brian" causes plenty of commotion for the Roman Empire and leaves him desperate to escape his burgeoning popularity.
We also got detailed information about The Johnsons, Junior Bonner and Custer Of The West in. Especially the Special Edition of the Dutch horror film "The Johnsons" will find gore fans" appraisal, as the disc contains the film's unrated version, as well as a commentary track with director Rudolf VanDen Berg, and writers Roy Frumkes and Rocco Simonelli.
Please take a look at our Film Vault for all the details on these exciting upcoming releases.