Heathers are not just a bunch of flowers…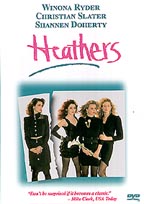 More news and images from Anchor Bay. We have been able to secure a look at the cover of the upcoming DVD release of Heathers for you. This deliciously dark comedy starring winona Ryder, Christian Slater and Shannen Doherty is hitting the streets on March 30 for the first time on DVD. The disc will contain the film's letterboxed transfer, theatrical trailer, a featurette, interviews with Winona Ryder and Christian Slater, a 4-page booklet with some notes by Heathers screenwriter Dan Walters, all on a full-color picture disc. Please click on the image to the left for an enlargement of the disc's cover art, including the back.
In other news from Anchor Bay we found out that there is some indication that Anchor Bay, too, is starting to support widescreen and pan & scan versions of their releases on the same disc. The upcoming family comedies Unidentified Flying Oddball and The Cat From Outer Space will contain both, the original 1.66:1 widescreen presentation as well as a fullscreen transfer on a double-sided DVD disc.