Hear the roar of gunfire… MGM preps war front line action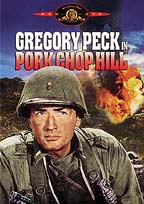 On May 18 some epic war dramas from MGM Home Entertainment will hit the shelves and put you to the trenches. All priced at $24.98, the combat thrillers Run Silent, Run Deep and Pork Chop Hill are featured in widescreen and pan&scan versions. Also coming on May 18 as part of MGM's 75th Anniversary Promotion, we will see Bataan and They Were Expendable.
"Bataan is an action-filled drama starring Robert Taylor battling amongside Filipino regiments in a last ditch effort to destroy a strategic bridge before the Japanese capture the Philipines.
"Pork Chop Hill" stars Gregory Peck in an true reenactment of the terrifying Korean War that brilliantly pulls the viewer inextricably into the crossfire that surrounds American foot soldiers.
"Run Silent, Run Deep" is a taut drama with Clark Gable as a single-minded submarine commander who must contend with a tough executive officer and attacks from enemy forces.
"They Were Expendable" stars Robert Montgomery and John Wayne who bring this WWII Navy film to vivid life as two PT boat skippers who battle the larger Japanese cruisers.
All DVDs feature English and French audio tracks, and include the original theatrical trailers, as well as eight-page booklets showcasing behind-the-scenes facts, title-specific trivia and production notes.