Anchor Bay bring you Terry Gilliam's Time Bandits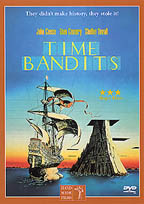 On April 27, Anchor Bay Entertainment will release Terry Gilliam's critically acclaimed fantasy movie and dark comedy Time Bandits to DVD. Unlike the Criterion Edition of the same film around the same time, Anchor Bay releases this film in a no frills version at a suggested retail price of $24.98 for those people who are looking for the film only and do not want to spend the additional $15 to obtain Criterion's supplements. The disc will contain the film's widescreen transfer, theatrical trailer and talent bios with a Dolby Digital Stereo soundtrack.
"Time Bandits" introduces Randall, Fidgit, Wally, Og, Strutter and Vermin, a troupe of tiny bandits challenged with the task of patching up the handiwork of a Supreme Being who was forced into creating the world in only six days. Instead, the greedy dwarves, accompanied by a classic English schoolboy, steal the priceless map of the universe and are swept away on a whirlwind adventure through time and space encountering bizarre incarnations of Napoleon, Robin Hood, Agamemnon and other playmates.
Please click on the image to the left for a look at this release's front and back cover artwork.