After a long delay, finally a look at Kingpin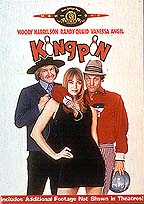 The hilarious and absurd comedy Kingpin had been announced for release on DVD a long time ago, but MGM Home Video pulled the title from its release schedules at some point without further notice. The disc has finally been re-scheduled this week and also some information came in why the disc had ultimately been delayed.
The directors opted for a Director's Cut of the film which will now find its release on this DVD. The new version of this outrageous comedy starring Woody Harrelson and Randy Quaid now contains an additional 4 minutes of footage that rockets the movie's previous PG-13 rating to a solid R rating.
"Kingpin" is the story of a pro-bowler who loses his bowling hand. Years later, he thinks he's found his ticket back to the big time when he meets the naïve Ishmael, an amish bowling whiz. Together they set out for a million dollar tournament in Reno, and along the way they pick up Claudia, a sexy vixen with brains, attitude and really big… ideas.
MGM will release "Kingpin" on May 18 on DVD containing a 16×9 enhanced widescreen and apan&scan version of the film, as well as a commentary track by the directors Peter & Bobby Farrelly at a suggested retail price of $24.98. Please click on the image to the left for a bigger version of this DVD's cover.