Pleasantville will feature digital-to-digital transfer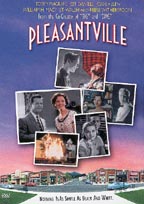 Line Home Video just let us know that their upcoming release of Pleasantville will be the first digital-to-digital transfer of a live action film. This should enhance the overall image quality of the film as opposed to traditional film based transfers. New Line Home Video once again intent to demonstrate that it is leading the DVD industry with ground breaking technology with the DVD release of this Academy Award nominated film.
In other news, New Line Home Video report that they are currently working on a DVD Platinum Edition of Chow Yun Fat's actioner "The Corruptor" which hits movie theaters this coming weekend. This should give you a bit of an idea how long the preparation and work actually take until a DVD finally makes it to market. Also the upcoming Austin Powers 2: The Spy Who Shagged Me is already in production for its DVD release and we also hear that good progress is made on the Platinum Editions of the upcoming Nightmare On Elm Street series, as we reported some time ago.