A look at "Alice In Wonderland"… while we are waiting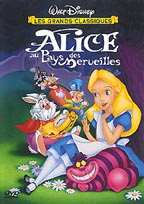 As we had reported last week, plans are reportedly under way at Disney and Buena Vista Home Video to release films from Walt Disney's animated film library on DVD in the US in the fall. While we are all waiting for these Disney classics to hit the shelves, here we have a look at the cover of the French DVD release of the 1951 classic Alice In Wonderland, courtesy of our friends at the DVD World Report.
This region 2 disc of the film features an English 5.1 channel Dolby Digital soundtrack as well as a number of other language tracks in Dolby Surround and monaural Dolby Digital. It is a single layer disc containing the disc's original full frame transfer at a running length of 72 minutes.
The disc is reportedly now available in French stores and the next Disney classic, Dumbo is expected to hit the shelves next week.
Please click on the image to the left for an enlarged version of the disc's complete package sleeve.