MGM announces all four Pink Panther movies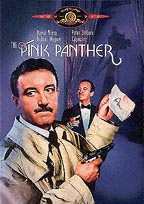 One of comedy's most bumbling, hilarious sleuths, Inspector Clouseau, makes his
way to DVD on March 23 from MGM Home Entertainment.
All priced at $24.98, The Pink Panther, A Shot In The Dark, The Pink
Panther Strikes Again and Revenge Of The Pink Panther from
legendary director Blake Edwards, star the beloved Peter Sellers. Each
of the discs will also contain an 8-page booklet that reveals the cast and
filmmakers" on and off camera antics. All discs will contain English and French
language tracks and feature both widescreen and pan&scan versions of the film,
as well as the films" original theatrical trailers.
Please click on the image on the left for an enlarged version of the
"Pink Panther" cover artwork and check our "Film Vault" for more details on these hilarious slapstick comedies.