Greetings from Pleasantville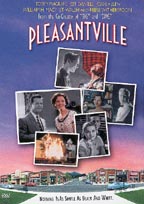 On March 23, New Line Home Video will release the visionary comedy Pleasantville on DVD, day and date with its VHS counterpart. The film from the creators of comedies such as Big and Dave will take you on a hilariously nostalgic joyride in this movie, starring Jeff Daniels, Joan Allen and William H. Macy.
Life imitates art when two modern-day teenagers get trapped in the perfect suburbia of the 50's sitcom, Pleasantville. But when they teach the townspeople of Pleasantville how to express their true feelings, they learn that life is anything but black and white.
With a suggested retail price of $24.98, Pleasantville will contain audio commentaries by director Gary Ross, producer Steven Soderbergh and composer Randy Newman. It will also contain a "Making-Of" documentary, the film's theatrical trailer, the film's entire screenplay, accessible through DVD-ROM, and a music video by Fiona Apple.