Crystal clear sound on adult DVDs – NuTech discover DTS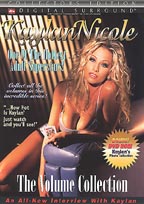 NuTech Digital have just announced their latest plans to release a number of adult titles with DTS soundtracks. The first entry in the series will be Kaylan Nicole – The Volume Collection, a feature presentation of one of NuTech's most asked for and sought out starlets, Kaylan Nicole. It will contain an all-new interview with Kaylan talking about her glamorous life in porno and will also contain a bonus DVD-ROM with Kaylan's photo gallery with over 1,000 photos.
Other titles currently planned for release with DTS soundtracks are Sex, Lies & The President, Sensual Experience, Coming To Beverly Hills and The Price Of An Education. All discs will carry a $29.95 suggested retail price and also contain a Dolby Digital 5.1 soundtrack. You will also find animated chapter menus, slide show photo collections, outtakes, behind-the-scenes footage and movie trailers on each of these discs.