A look at Sterling's new Millenium series – Legionnaire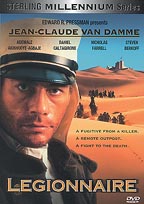 Sterling Home Video currently put the final touches to their first Millenium Series
Special Edition DVD release, Jean-Claude Van Damme's Legionnaire.
The disc will
hit the streets on February 9 and contain a large number of supplements, such as
cast and crew interviews, a documentary on the French Foreign Legion with rare footage, an audio commentary track, trailers, the entire screenplay,
trivia games and much more. Some of the supplements will be available on DVD-ROM
drives only to make sure the disc is also tapping into the exploding market of
DVD-ROM enabled computers.
"Legionnaire" is a powerful adventure of one man's journey into danger and redemption.
Mixing the glitter and danger of the 1920's Marseille with the turbulence and disorder
of colonial Morocco, "Legionnaire" is a story of survival.
During the 1920s, the celebrated French Foreign Legion provided a convenient refuge for a countless number of men anxious to escape their past.
On a mysterious personal quest, Alain Lefevre enlists inthe elite military group and is stationed in colonial Morocco. Sent on a desperate mission to a remote
desert outpost, the Legionnaires soon learn the terrifying reality of war.
Please click on the image to the left for an enlarged version of the disc's cover.