The Army Of Darkness rises again in a Special Edition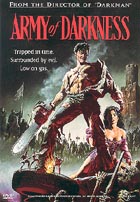 If you felt Universal Home Video's release of "Army Of Darkness" was nice, but
substantially lacking in supplemental features, you might be pleased to hear
that a full-blown Special Edition of this third installment in Sam Raimi's
"Evil Dead" series is currently in the planning stage. Not Universal will
release this grand package however, but none other than our friends at
Anchor Bay, who have clearly established themselves as the Number One supplier
of DVD horror.
Anchor Bay have already released "Evil Dead II: Dead By Dawn" and on January 19
they will also unleash the first part in this shrill and daring horror series on mankind.
Now they have told us in an exclusive scoop that they are currently laying out
the details for a special treatment of the series' final part, "Army Of
Darkness". The release will utilize Universal's excellent transfer and add
some exciting – and never-before-seen – special features and footage. Most interestingly,
Anchor Bay are also trying to get "Into The Woods" on this Sspecial Edition DVD. "Into
The Woods" was a short film by Bruce Campbell and Sam Raimi, which eventually lead to
and turned into the feature film "Evil Dead".Of course we will keep you posted
as we learn more details about this exciting release.
Although no exact release date has been set yet, plans currently suggest a
release in August 1999.