Take a look at the Avengers from Warner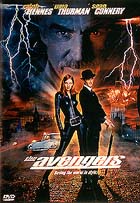 On December 29, Warner Home Video is releasing this summer's feature film
version of The Avengers on DVD for a low price of $19.95. Once again we
have had the chance to get the cover of the release for your viewing pleasure
ahead of time. Please click on the image to the left for an enlarged version of
the packaging artwork.
With a swank cast including Ralph Fiennes, Uma Thurman and Sean Connery, the cult
series of the 60's is re-invented for the 90's as dry wit and non-stop action are
combined to save the world from an evil billionaire taking over.
Geat ready for this extraordinary film on DVD when Mr. Steed is once again
taking his umbrella and bowler hat to taking things in his own hands.