Artisan gets ready to rumble with the Ringmaster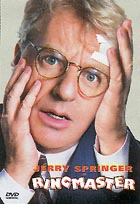 We have just gotten word from Artisan Entertainment that Jerry Springer's
Ringmaster will be released on DVD in March. The disc
will contain some supplemental material and Artisan are currently trying to get
Springer himself to do a commentary track for the disc.
If you do not know who Jerry Springer is, rest assured. You are obviously living
in a society that has maintained the last bit of dignity and does not try to
make fun and money on the backs of people who just don't have their act together.
The Jerry Springer Show is the hottest show on US television blowing all
ratings records. The secret to its success is profanity and stupidity.
Take a few people who do not have anything to say or want to believe they're
controversial, throw them on national television to masturbate their egos and
dig deep in their private lives until they start yelling, fighting, clawing and
punching each other. It is as low as entertainment can get, but Jerry's audience
doesn't seem to care. Either way, the film Ringmaster captures the essence of
the show and spices it up with some backstage footage. It is a spoof on the
actual show by the people who make and run the show to let you know what it could be
like. I can't wait to see how Jerry and his bodyguards make fun of themselves in
this riotous release from Artisan.