A close look at Universal's "Out Of Sight"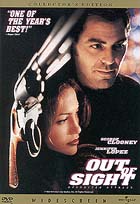 January 5 will see Universal Home Video's release of Steven Soderbergh's funny
thriller Out Of Sight, starring George Clooney and Jennifer Lopez, and once again
we are happy to be able to present you the disc's cover artwork before its actual release for your viewing pleasure.
The film is about the fatal attraction between a beautiful federal agent and an
escaped convict who happen to run into each other after the escape. Within minutes
they can't resist each other and fall in love, but how do you deal with a situation
like this. They love each other, and yet, they can't trust each other.
Check out "Out Of Sight" when it hits the shelves. It is a great film
with an attitude, superb editing, a great cast, witty dialogues, a grand finale and Universal's fantastic "Collector's
Edition" treatment. Please click on the image on the left for a larger version of the cover.