Jackie Chan's "Rush Hour" to hit the shelves in January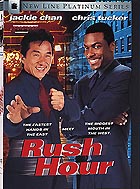 New Line Home Video just informed us about the upcoming release of Jackie
Chan's latest blockbuster hit "Rush Hour" on DVD. The disc will be released as
part of New Line's Platinum series line-up with plenty of supplemental
materials on January 26, and once again, this disc will feature a number of
enhanced DVD-ROM features.
It will be offered in widescreen and includes a
director's commentary, as well as the isolated film score with the composer'
s commentary, never before seen outtakes and bonus materials featuring
Jackie Chan and Chris Tucker. In addition, director Brett Ratner's New York
student film is included on the disc, along with filmographies of the cast
and the original theatrical trailer.
Boasting extraordinary features for DVD-ROM users, "Rush Hour" will also provide
viewers with a truly interactive movie-watching experience. Viewers can
watch the movie, access any of the Platinum Series features, print and read
the original script, as well as click on the screenplay and be launched to
the corresponding scene in the movie. The enhanced DVD-ROM contains an
original interactive gameusing clips from the film, in-depth information on
Chris Tucker and Jackie Chan including a link to Jackie Chan's video vault.
Plus, viewers can click on a photo of Chan and view every bone he has ever
broken.
Click on the cover image on the left to see an enlarged version of the cover
artwork for this DVD and while we're at it, don't miss our in-depth look at
Jackie Chan's "Mr. Nice Guy" DVD in the next few days.