Full Moon to release "Subspecies 4" in December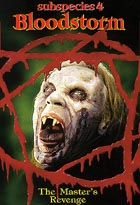 Full Moon Pictures have just announced their plans to release the latest installment in their successful "Subspecies" series to DVD in time for Christmas.
"Subspecies 4: Bloodstorm" will hit the streets on December 8, day and date with its VHS counterpart at a suggested retail price of $24.98 and will contain a new edition of Videozone video magazine. Starring Anders Hove, Denise Duff and Jonathon Morris, "Bloodstorm" brings back the most savage vampire masters of all time from their unholy rest. Directed by Ted Nicolaou, who also created the previous parts of the series, as well as Full Moon's "Vampire journals", the film has been shot in the magnificent castles and graveyards of Transylvania to capture the areas mystic atmosphere.