Game of Thrones: The Complete Seventh Season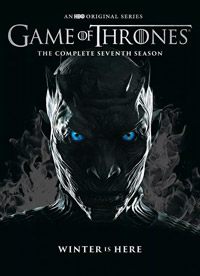 Game of Thrones: The Complete Seventh Season (2017)
HBO Home Video
Cast: Peter Dinklage, Lena Headey, Emilia Clarke, Kit Harington, Nikolaj Coster-Waldau
Extras: Featurettes, Commentary Tracks, Interviews
Rating: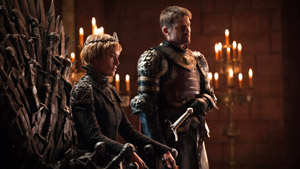 It is hard to believe that we have already reached season 7 of Game of Thrones and despite a pretty abysmal third season, the show managed to really rebound and fill viewers with excitement year after year. Slowly heading toward its final climax—coming in season 8 reportedly and marking the end of the show—this season is once again filled with all the wonder that fans have come to expect.
The show continues right where we left Westeros with Jon Snow (Kit Harington) preparing everything to defined the wall against the White Walkers and their army of the Dead that is steadily approaching. Meanwhile, Daenerys Targaryen (Emmilia Clarke) reaches Dragonstone, the island that has been her family's home for generations, marking her return to Westeros with her own army and her three dragons at her back. Cersei (Lena Headey), meanwhile is making her own plans to take control off all seven kingdoms. Not an easy undertaking, as her power has been severely pruned. With Jon Snow declared King of the North by his own people and Daenerys approaching, Cersei is under pressure to find allies in her fight.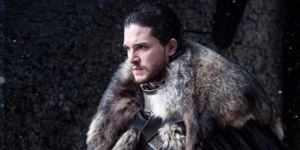 Three power centers, three very different objectives, yet as Jon Snow recognizes, if the dead breach the wall, it will all be for naught because there will be nothing left to rule. In an effort to survive, he needs to convince everyone in Westeros that the only way to have any kind of future, everyone has to put their squabbles aside and fight the same enemy. The only enemy that matters. The dead!
I cannot express how glad I am that Game of Thrones manages to pull all of its storylines back together into less than a handful of threads. At one point in Season 3, there were over 20 independent storylines and the show moved like molasses because there simply wasn't enough time to tell them all. Now, with a focus on three main plot lines, the show is fully focused and creates a spellbinding narrative where danger is always present. It has lost quite a bit of the palace intrigue and politicking that were the hallmarks of earlier seasons, partially because most of the scheming characters are dead by now, and in part, because the houses of power are so insulated at this time. Still, with Lord Baelish (Aidan Gillen) around, there's always room for a bit of unsavory politics, but for the most part, the show replaces that element with aspects of adventure. A daring excursion beyond the wall to catch a wight as proof of their existence is only one of the many moments where you're reminded that you are watching an epic fantasy as opposed to a historical show.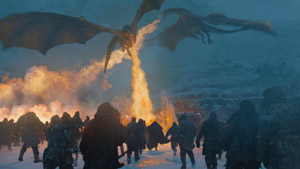 In fact, season 7 feels a lot more like high fantasy than any previous season, perhaps because the supernatural creatures receive a great deal more screen time than ever before. Fiery dragon attacks dominate whole scenes, and the army of the dead is more tangible and present than ever and the season's finale, in particular, will run a shiver down every Game of Thrones fan, no doubt, as the show heads into its final chapter next year.
With the same stellar cast returning for their parts, the show feels like a well-worn glove by now. The actors are perfectly comfortable in their parts and, more than ever, perhaps, we are instantly drawn into the world of Westeros, as we recall every bit of struggle and fight they had to get through in order to be where they are.
The show also dazzles us with awe-inspiring visual effects that rival any movie production and beautiful vistas that can take your breath away.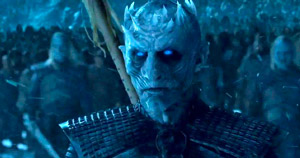 Arriving on three discs, HBO Home Entertainment is dishing out a splendid presentation of the show. The transfer is perfectly clean and without any hint of grain or blemish. I did notice occasional banding artifacts, however, as a result of the video compression. Particularly in scenes where the snow-covered backdrop of the North would have required the presentation to reproduce the most subtle hues of white, it failed and created visual artifacts. It is not a major detriment but I would have expected HBO to catch these instances as part of their quality control process and tweaked the compression for those particular shots.
That quibble aside, however, the rest of the show looks absolutely magnificent. Colors are rich and contrasted by solid blacks that give the image depth and dimension.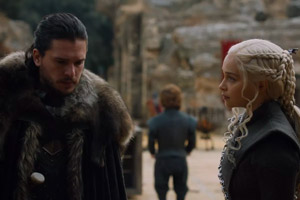 The music of Game of Thrones has always been a favorite of mine, as well, and once again, sweeping motives alternate with more driving elements to create a score that gives the show the perfect emotional lining it needs. Dialogues are well integrated and always understandable, though they do seem a bit under-mixed at times, creating tremendous jumps in overall volume.
Aside from all seven episodes—yes, there are only seven episodes in this season, making it, regrettably, the shortest one in the series—HBO has also added a few bonus features to the release, such as in-episode guides and a look at the histories and lore of the developments in the show.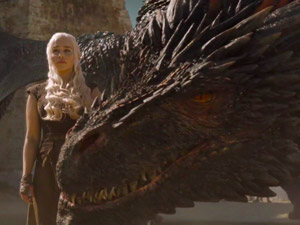 Behind-the-scenes featurettes and interviews are also included, as well as a close look at the art department and their work to bring this season to life.
As in previous seasons, HBO has also added a number of commentary tracks to the episodes, offering up more insights into the making of the show.
Clearly, this season of Game of Thrones feels too short. Way too short, for my taste, and I could easily have gone on for many hours more. HBO delivers a solid Blu-Ray version of the show on this release and there's really no good reason for anyone, not to grab a copy and relive the power and the glory of this show.