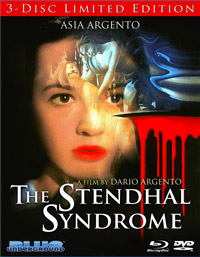 The Stendahl Syndrome (1996)
Blue Underground
Cast: Asia Argento, Thomas Kretschmann, Marco Leonardi
Extras: Commentary Track, Interviews, Featurettes, Galleries, Trailers
Rating: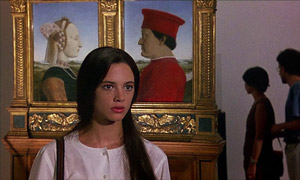 By the 1980s, Dario Argento, heir-apparent to Mario Bava, was considered the new Maestro of international horror. The 90s were less kind to him, but in 1996 he found his way back to his form with the release of The Stendhal Syndrome.. It was a movie that reminded many viewers of the power of Argento's uncanny talent and his cinematic vision.
Dario's daughter, Asia Argento, plays police inspector Anna Manni in this film. As she is investigating a serial rapist and murderer, the trail leads her to Florence, or more specifically, the Uffizi museum.
During a visit to the museum, Anna discovers that she suffers from "Stendhal Syndrome," a debilitating affliction which causes such susceptibility to art that a viewer experiences the work as reality. It is a nightmarish experience for her and while she tries to recover from the event in her hotel room, Anna soon finds her own life in danger and learns just how close she is to the killer.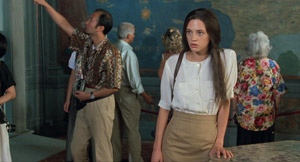 In many ways, The Stendahl Syndrome marked Dario Argento's return to form after a string of mediocre movies. It may not be on the same level as his masterpiece Suspiria, but it is by far superior to the run-of-the-mill horror films other directors and studios put out—particularly during that time period.
Like in his best films, Argento gives us pure cinema—a story that is masterfully told through its visuals mostly and not so much through dialogues or superficial scenes. I could think of no better modern director to make a movie about art-as-an-experience than Dario Argento because, throughout his career, he has delivered movies that constantly straddle the line between art and commercialism with the visual aspects often sidelining more traditional storytelling devices.
The Stendahl Syndrome is by no means a perfect movie. It is a bit uneven, almost as if Argento wasn't entirely sure how far to push the envelope, and as a result, it suffers an identity crisis halfway through. Nonetheless, it is a powerful and dark fantasy that is well worth watching and, perhaps, experiencing.
Fortunately for fans, Blue Underground took guardianship of this film and gives us a marvelous presentation on this Blu-Ray Disc release. (Note: The initial production run of the Blu-Ray release had a production error but Blue Underground has since corrected the issue and provided replacement disc to buyers free of charge.)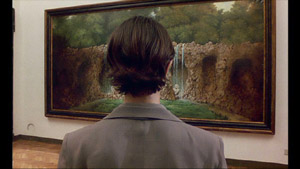 The reason I am so happy about Blue Underground releasing the film is that for the first time, it presents The Stendahl Syndrome in high definition, but moreover, in its original 1.85:1 aspect ratio. From what I can recall, all previous versions I've seen used a slightly reframed 1.66:1 transfer. The presentation is wonderfully clean, coming from a new 2K restoration from the original camera negative. As a result, the transfer is clean and crisp with no blemishes or speckles. The level of detail is wonderful, and even in dark, underlit scenes, the detail never breaks up and remains fully intact. Shadows are rendered with deep blacks and perfectly complement the transfer's highlights.
One of the most striking aspects of the film's cinematography is Argento's use of color and this transfer brings it to life with all the bravado the maestro has put into it. Awash in bold, vibrant hues, the film revels in its ability to use color for atmosphere and symbolism, and the Blu-Ray transfer pays full tribute to this with a reproduction that is never oversaturated and never bleeds.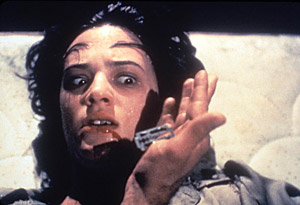 To top it all off, Blue Underground is also dishing out a solid 7.1 DTS-HD audio track as part of the release, along with 6.1 DTS ES, 5.1 Dolby Digital EX and Dolby Surround audio options. Not only does it enhance the artsy aspects of the production with its sound design, but it also helps bring Ennio Morricone's score to life.
This special edition comes with a host of bonus features, including a New Audio Commentary with Troy Howarth, author of So Deadly, So Perverse in which he discusses the movie and Argento's work in general.
In addition, Blue Underground provides a number of New Interviews with the film's star Asia Argento in "Three Shades Of Asia", Co-Writer Franco Ferrini in "Prisoner Of Art", and Special Makeup Artist Franco Casagni in "Sharp As A Razor".
Furthermore, you will find featurettes and interviews on this disc that have been previously released but have not at all lost their appeal.
The Stendhal Syndrome is Dario Argento's most important film that he created during the 1990s. That alone should be reason enough to give it a closer look. The fact that Blue Underground is dishing out bonus features and quality in a serious way on this release, should make it a no-brainer. Get your fix now!