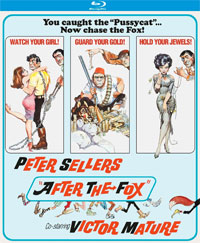 After the Fox (1966)

Cast: Peter Sellers, Britt Ekland, Akim Tamiroff
Extras: Theatrical Trailers, Trailers from Hell with screenwriter Larry Karaszewski
Rating: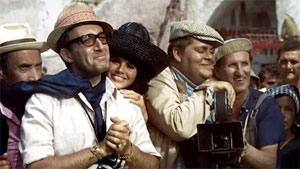 After the Fox is the perfect 1960's celluloid time capsule. Everything about it – the story, the cinematic style, the separate artistic components, even the poster art – creates not only a lithe entertainment but holds a mirror to the "anything goes" mindset of the decade. Last December, I listed the film on my Wish List for 2016 catalog Blu-ray releases. Kino Lorber's new Blu-ray release finally gives some HD love to one of the wackier "wacky comedies" of its time.
The 1966 film boasts an impressive, albeit unlikely, collaboration of artists and styles: screenwriter Neil Simon (his first screenplay), director Vittorio De Sica, composer Burt Bacharach and the glue holding together the improbable enterprise, the manic Peter Sellers. The story concerns master criminal Aldo Vanucci aka The Fox (Sellers), who springs from prison to take on the Gold of Cairo job – smuggling 300 bars of the recently purloined metal for a hefty retainer that will allow him to, in his words, "steal enough to become an honest man."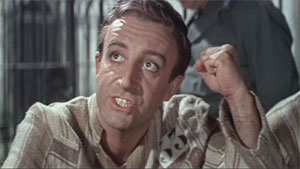 Vanucci devises an ingenious scheme where he pretends to be Italian film director Federico Fabrizi filming his latest movie about…a gold heist. He convinces aging American star Tony Powell (Victor Mature, in one of his most rewarding and slyest performances) to headline, much to the chagrin of his ever-distrustful agent (Martin Balsam) and, with Fabrizi "discovery" Gina Romantica aka Vanucci's sister (Britt Ekland), to travel to a quaint seaside village to hopefully pull off his greatest cinematic achievement, er, criminal triumph. Needless to say, things don't quite work out as planned…
There's an irresistible appeal to "After the Fox." While the jokes don't always land, there's a genteel aspect to the humor. At the start, we see Vanucci in prison during visiting hours. Family bring gifts to the prisoners, yet it is Vanucci who showers sausages, cheeses, cigarettes (filter) and fresh poultry on his barely-surviving gang. It's not a knee-slapper sight gag but shows that ironic juxtaposition needn't victimize to be funny. Bent within the skewed prism of Simon/DeSica/Sellers are observations about star fandom, the motion picture industrial complex, overly intellectual film critics (maybe the film's best moment) and even a few digs on what it means to grow old in our youth-obsessed culture. Come to think of it, 1966 doesn't sound so far away from 2016.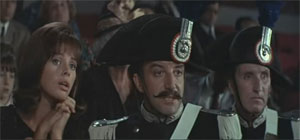 Sporting a brand new HD master (per the original announcement), the 1080p 2.35 transfer looks as good as I have ever seen the film. Colors are stable and bold (Gina's Lucille Ball-like red wig just pops off the screen). Grain is ever-present but appropriately balanced and managed, giving a consistent film-like feel. Despite some source damage (at one point, a faint line runs down the right side for about 20 minutes) but compared to the trailer contained on the Blu-ray, I'll speculate that some restoration work has been done.
The DTS-HD Master Audio 2.0 audio may not be a window-rattler, but does a better-than-decent job of presenting clear dialogue as well as articulating one of my favorite Burt Bacharach scores. Bacharach's score is humorous, whistle-worthy and sports quintessential 60's orchestrations, like in the "Italian Fuzz" motif whenever the Italian police search for Vanucci, or the title song where Sellers shares vocals with The Hollies.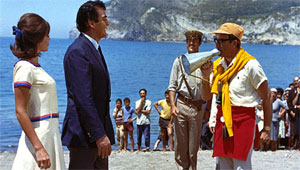 Original theatrical trailers for "After the Fox," "What's New Pussycat" and "The Party" are offered, presented in varying degrees of physical shape. The Fox trailer is also presented via Trailers From Hell, with screenwriter Larry Karaszewski expounding his fondness for the film. In fact, Larry so precisely encapsulates MY affinity that I seriously toyed with confining my review language to: "Listen to Larry Karaszewski's narration of the trailer. He loves the film for the same reasons I do, and says it far more eloquently."
Farce can be a tricky venture. One joke too soon or a sight gag too late and the entire undertaking faces irretrievable jeopardy. Yet, at the same time, akin to rescuing a cat with a Groucho moustache or a dog with bald spots on its coat when one embraces a flawed film comedy. "After The Fox" is a guilty pleasure I'll tirelessly defend, and if just one person reading this review tries to sample its cockeyed charms, I'll be happy.