The Richie Blackmore Story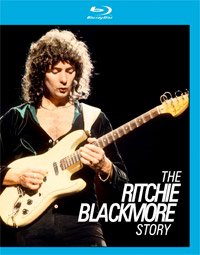 The Richie Blackmore Story (2016)
Eagle Rock Entertainment
Cast: Richie Blackmore, Candice White, Steve Vai, Brian May, Gene Simmons, Joe Satriani, Phil Collen
Extras:
Rating:
Richie Blackmore is a legend. But even though he walks the rock pantheon and has inspired countless musicians, Richie Blackmore is also a mystery. Much has been said about his escapades, his clashes with his fellow musicians, his emotional outbursts and his ego, but for the most part it was always hearsay. Stories detailed other people, bystanders, observers, the other guy. Hardly ever have we heard Blackmore's side. Hardly ever have we heard about Richie Blackmore, the man, the musician. The documentary "The Richie Blackmore Story" tries to finally put that right and give us a glimpse at who Richie Blackmore really is, without the media sensationalism and with the sobering distance time afforded him. This is Richie Blackmore in his own words and I was very eager to find out more.
While not an ardent fan, I have been a follower of Blackmore's work since his Deep Purple days, a time when songs like "Burn," "Highway Star," "Woman From Tokyo," and "Smoke on the Water" imprinted themselves on my teenage mind with such fervor that they never left me. I realized then that Richie Blackmore was a different kind of guitar player. His neo-classical approach to scales, his colorful riffs and his tremendous technique were always impressive. I remember well the first time I heard a full, sweeping 6-string arpeggio escape his Fender Stratocaster, wondering to myself how the hell he just did that. And then there's the Highway Star solo, complete with a frenzied triplet shredding sequence that instantly made your jaw drop. Where Hendrix wowed audiences with his touch, his emotions and his soul, Blackmore floored everyone with his impeccable technique but without ever overexposing it, always keeping it on the back burner, making listeners wait for it to explode forth.
Over the course of the decades that followed, I witnessed his split from Deep Purple and his rise to commercial success with Rainbow and his consequent return to Deep Purple later on, and wherever he went, Richie Blackmore was shrouded in mystery.
The thing that instantly struck me when watching the documentary was how soft-spoken Blackmore actually is. With his antics one would expect a loud, almost abrasive character, but nothing could be further from the truth. Extolling upon his career, retelling anecdotes, reminiscing about the music and his bandmates, he is an engaging storyteller as it turns out. It is wonderful to hear about various landmark moments in his career in his own words, how certain things came to pass, how certain songs found their genesis, how certain "accidents" happened, how he views his former bandmates.
And despite the problems he has had with people in the past, like Ian Gillan or Ronnie James Dio, Blackmore talks about them in an almost affable manner for the most part, and when he discusses the incumbent clashes, one never gets the impression that he is bitter over it or tries to lash out. He simply recalls the events without evident resentment, which further adds to the surprising character that is so different from his stage persona.
He also goes into quite some depth about the business side of Deep Purple, discussing the various changes of band members and how it affected the chemistry, and how he ultimately lost interest in the band due to its musical direction. He is also not shy about talking about how he tried to force the band to fire him, only to find that they were willing to pay his exorbitant monetary requests or him to stay on. You will find it all here, in very personal detail.
Aside from the absolutely fascinating conversations with Blackmore, "The Richie Blackmore Story" also contains plenty of concert footage. While you won't find complete song videos or recordings here, there are a great many highlights strewn throughout. Milestones of his eclectic career are all there, from the earliest of days, to the burning Montreux hotel that spawned the hit "Smoke on the Water," to the infamous Deep Purple concert at the record-breaking California Jam in 1974, during which Blackmore demolished half the stage, including a TV camera. Some clips from the Rainbow era are also included, to showcase some of the commercial successes the band celebrated, as well as the various line-ups the band went through.
Towards the end, the documentary focusses on Blackmore after his rock career. These days he is touring with "Blackmore's Night," a folk ensemble that plays medieval faire music, with him and his wife Candice at the helm. It is a big leap from the progressive rock of Deep Purple and the commercial rock of Rainbow, but it further shows that Blackmore's musical roots are not nearly as one-dimensional as many people may think. His interest is in music as a whole, without classifications.
"The Richie Blackmore Story" is a truly charming documentary that really made an impression on me. While the archival footage is sometimes of poor quality—by its very nature—for the most part, the presentation is rock solid. While it does not discuss his musical technique or any guitar tricks, in case you are looking for that, the documentary is filled with Blackmore's personality and personal history.
For anyone interested in Blackmore's work and the man himself, this documentary should really become a go-to point of reference because it shows a side of the musician you won't find anywhere else.