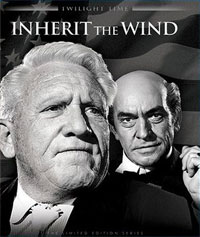 Inherit the Wind (1960)
Twilight Time
Cast: Spencer Tracy, Fredric March, Gene Kelly, Dick York, Donna Anderson
Extras: Theatrical Trailer, Isolated Music, Effects Track
Rating:
During the 1950s, Hollywood mutated from the monolithic studio system to the more risk-friendly independent film companies. Just as stars had been typecast, so were some producers. If you had a property leaning towards science fiction and fantasy, you'd go after George Pal. If the script had epic storytelling elements, Samuel Bronston or Sam Spiegel would be your first call. But perhaps no one embodied the "message" filmmaker like Stanley Kramer. Starting as a producer, he guided such esteemed – and for the time, culturally risky – productions as "High Noon," "Home of the Brave," "The Men," and "The Wild One." He also produced such "respectable" films as "Cyrano De Bergerac," "Death of a Salesman," and even the 1953 Dr. Seuss-scripted fantasy "The 5,000 Fingers of Dr. T." However, starting with 1955's "Not with a Stranger, "Kramer also took on directing chores. In 1960, Kramer tackled no less heady a subject than the concept of free thought with his film adaptation of the stage play "Inherit the Wind." Twilight Time recently released a Blu-ray edition of this courtroom classic and befitting the subject matter, Twilight's treatment is just as reverential.
In the forward of the printed play, the playwrights Jerome Lawrence and Robert E. Lee, plainly state their case at the outset: "Inherit the Wind is not history." The play is a heavily fictionalized interpretation of the infamous 1925 Scopes Monkey Trial, challenging a state law that made teaching Charles Darwin in the classroom a crime. What helped generate headlines were the two men who argued the case: legal wizard Clarence Darrow for the defense, and former Presidential candidate and fundamentalist William Jennings Bryan for the prosecution. Lawrence and Lee transformed Darrow and Bryan into Henry Drummond and Matthew Harrison Brady, played in the film by two just-as-legendary master thespians – Spencer Tracy and Fredric March.
Bertram Cates (Dick York of "Bewitched" fame) is arrested for including evolution in his high school curriculum. For the townspeople of Hillsboro, Cates' actions are not only illegal, but perceived as a direct attack on their beliefs and unite against him, especially when religious crusader Bryan announces he will help prosecute. Newspaper reporter E.K. Hornbeck (Gene Kelly) announces during a Brady welcoming rally that Drummond, "the most agile legal mind of the 20th century" has been tapped to defend Cates. As Drummond and Brady spar in the sultry courtroom, Cates must not only deal with the legal fallout, but the damage done to his fiancé Rachel Brown (Donna Anderson), who happens to be the daughter of the town's "spiritual leader" Reverend Brown (Claude Akins).
"Inherit the Wind" is a message piece writ large. As helmed by Kramer, and adapted for the screen by Nedrick Young and Harold Jacob Smith, nothing is subtle here: the sides are clearly delineated; the deck is stacked in presenting opposing arguments and despite a symbolic olive branch, Kramer leaves nothing to chance that the viewer might make the "wrong" choice. Even so, the film is immensely watchable. I've returned to it many times over the years, if only to enjoy Tracy and March re-chew the scenery, but in a good way. When the play debuted in 1955, it was more about McCarthy hysteria than religion vs. science. In 2015, it's not hard to see a contemporary analogy, with continued efforts of an overzealous few to equate Creationism with Darwin's scientifically accepted theories. In many ways, the debate that Lawrence and Lee tried to subvert in 1955 has come full circle 60 years later. As Henry Drummond would say, "Well, that's evolution for you."
Kramer assembled an ace cast for the film. In addition to Tracy and March, there's Gene Kelly as the cynical Hornbeck, stand-in for real trial chronicler H.L. Mencken. Kelly is quite good when he's finding the hopeless in, well, everything. The performances by Anderson, York, Harry Morgan (the presiding judge), Florence Eldredge (Mrs. M.H. Brady and Mrs. Fredric March in real life) and 60s character actor Elliott Reid (the co-prosecutor) are all solid. Akins' fiery sermon where he damns his own daughter strikes what I feel is the story's falsest note. Eldredge's scenes as Brady's gentle but resolute wife almost reconcile the lopsided narrative tone.
When "Inherit the Wind" on Blu-ray was first announced, I eagerly chucked the previous MGM/UA non-anamorphic DVD release. Presented in 1.85, this is a sumptuous HD transfer. Filmed in black and white by the great cinematographer Ernest Laszlo, the film has never looked better. Details just pop, whether it's the constant beads of forehead sweat or the texture of 1920s tweed jackets. Contrast and gray scale are balanced, with solid whites and deep blacks. Grain (remember when this was a BIG issue?) is present but completely appropriately.
Audio is presented via DTS-HD Mono. While audio levels could be goosed a bit higher, dialogue sounds full and analog audio anomalies (hiss, pops) are virtually non-existent. Ernest Gold's score gets some shrift in dynamic range, but the disc offers an isolated music and effects track, presented in DTS-HD 2.0.
Extras include the aforementioned M&E track, a rather lengthy theatrical trailer and a promo for MGM's 90th Anniversary. As this is my first Twilight Time review, I want to take a moment to praise one of the (many) consistent joys of the label: the liner notes of Julie Kirgo. Much of the anticipation when buying any Twilight Time release comes from the booklet containing Julie's ruminations, observations and research on the title in question. Her thoughts on "Inherit the Wind" do not disappoint. Per usual, her essay is eloquent, informative and illuminating.
It's not often that I can credit a film with introducing me to a new word, but "Inherit the Wind" did exactly that, when at one point (1 hour and 5 minutes into the feature) the prosecution objects on the grounds of "jactitation." Everyone in the courtroom immediately sports a confused face and the judge admits he's not aware of the word. The prosecutor elucidates: "a specious or false premise." In the 40 plus years since my first viewing, I've waited for the right moment to use that word in my own writings. That moment finally arrived…here.