Heaven & Earth (1998)
Twilight Time
Cast: Joan Chen, Tommy Lee Jones, Hiep Thi Le
Extras: Commentary Track, Alternate Opening, Deleted Scenes, Theatrical Trailer
Rating: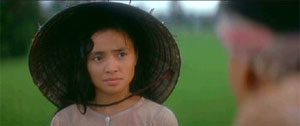 One of the finest films by one of America's greatest directors finally gets the high-definition treatment it deserves on Twilight Time's exquisite new Blu-ray release of Oliver Stone's "Heaven & Earth." A profoundly philosophical and spiritual film sandwiched in between the explosive political provocations of "JFK" and the confrontational nihilism of "Natural Born Killers" (just seeing those three titles in the same paragraph indicates how astonishingly versatile Stone is), "Heaven & Earth" represents its director at his most contemplative and generous. As a subtle, reflective palate cleanser between two sticks of cinematic dynamite thrown in audience's laps, it has always been somewhat overlooked and underrated; yet close examination reveals it to be one of Stone's most rewarding and enlightening works.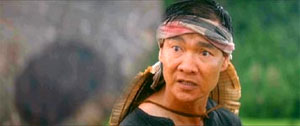 Released in 1993, "Heaven & Earth" was Stone's third film about the Vietnam War (following "Platoon" and "Born on the Fourth of July"), and his first to examine the conflict from both a feminine and an Asian point of view. Based on the memoirs of Le Ly Hayslip, it tells the story of a young Vietnamese woman whose pastoral life is shattered by war. Hayslip (played by Hiep Thi Le, an extraordinary actress who should have gone on to a greater career) endures multiple physical and emotional ordeals during the conflict in her home country before finding love with Steve Butler (Tommy Lee Jones), a well meaning but troubled Marine who marries her and brings her to America. Unfortunately, there Hayslip experiences a whole new series of challenges as she struggles to assimilate and to handle her husband's increasing mental and financial problems. In Stone's hands, her journey becomes that of a woman who initially feels at home nowhere, but who ultimately realizes that she belongs to multiple countries, and multiple states of mind.
This cursory plot summary does little to convey the sheer magnitude of Stone's achievement, which is to create one of the great intimate epics of all time; like "Lawrence of Arabia" and "The Last Emperor," "Heaven & Earth" manages to tell a sweeping historical tale of great narrative breadth that retains the delicacy and depth of a character study. It is also, in its beautiful celebration of duality and complexity, perhaps Stone's most personal film. Although he is often characterized in the media as a heavy-handed provocateur, Stone is actually the opposite – he's one of the cinema's great seekers and explorers, constantly testing himself and his subjects to uncover new insights and revelations. Rather than commit to a particular genre or point of view, he has made a career out of considering the value in opposites, whether it's opposite degrees of scale (moving from the minimalist "Talk Radio" to the expansive "Born on the Fourth of July"), opposite filmmaking languages (directing the classical "Alexander" in between the experimental documentaries "Comandante" and "Looking for Fidel"), or opposite political stances within the same film (as in "Nixon," in which Stone seems to be having an internal argument over whether or not the title character is an admirable or deplorable man).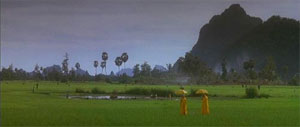 "Heaven & Earth" is Stone's most eloquent and moving testament to the power of reconciling varied experiences and perspectives, as Hayslip comes to embrace East and West, Buddhism and Christianity, the traditional and the modern, all as parts of herself that are not in conflict with each other but in harmony. In adapting Hayslip's books, screenwriter Stone expresses this notion (succinctly captured in the film's title) clearly and powerfully through his protagonist's unique and specific story, but manages to elaborate upon the ideas to accomplish something truly universal, and truly necessary. In today's world, which is at once more connected and divided than ever before, Heaven & Earth's message resonates even more powerfully than it did in 1993.
Thankfully, the film also looks and sounds better than it has since its original theatrical presentation, thanks to the good people at Twilight Time. Their new Blu-ray release boasts a stunning 1080p transfer with remarkably vivid color reproduction (I don't know if I've ever seen such striking, rich greens on a television before) and exceptional detail in the film's many nighttime interiors and exteriors.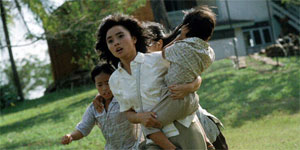 As is always the case with Stone's films, "Heaven & Earth" has a powerfully expressionistic sound mix, and the uncompressed DTS-HD soundtrack here perfectly captures the film's aggressive use of surround channels and the spectacular richness of Kitaro's affecting score.
The extra features (carried over from an earlier standard-def DVD release) are excellent as well, starting with an informative and entertaining commentary track by Stone in which he goes into great detail about the film's intentions and production. There are also about 25 minutes of deleted scenes with optional commentary, and an alternate opening. A theatrical trailer rounds out this essential package, which has been released in a limited run of 3,000 copies and thus is best added to one's collection as soon as possible.