Penny Dreadful: The Complete First Season

Penny Dreadful: The Complete First Season (2014)
Showtime
Cast: Eva Green, Timothy Dalton, Josh Hartnett
Extras: Featurettes
Rating: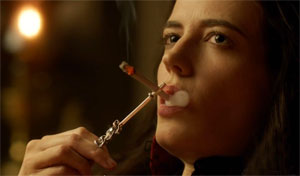 When I first heard of "Penny Dreadful" I was instantly excited and curious. A lot the information and premise that came forth at the time reminded me a lot of my own "Jason Dark" series of supernatural mysteries, which also takes place in Victorian England and also pulls together characters and historical events from the time period to create a mysterious world full of chills and shudders. Now that Showtime and Paramount have prepared a Blu-Ray version of the show's first season, it was definitely time for me to check it out at last.
The series centers around Miss Vanessa Ives (Eva Green) and Sir Malcolm Murray (Timothy Dalton), a team that is tracking supernatural occurrences and hunts down monsters. But it soon becomes evident that there is a purpose for their chase, as they begin assembling a small team of helpers around them. A team that consists of the death-defeating scientist Victor Frankenstein (Harry Treadaway), the American sharp-shooter Ethan Chandler (Josh Hartnett) and Sir Malcolm's trusty but quiet bodyguard Sembene (Danny Sapani).
Their quest is to locate an alpha predator of the supernatural world, who has taken away Murray's daughter Mina (Olivia Llewellyn) and enslaved her with his demonic spell. What follows is a series of eight episodes that explores the characters in more detail, adding many facets and familiar faces of gothic horror to the mix, while the team scrambles to find and defeat the elusive master vampire.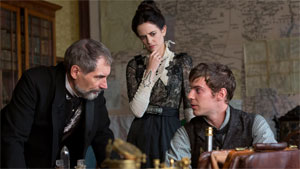 "Penny Dreadful" is a cool mix and it definitely works down the same line as my "Jason Dark" stories, pulling in references from the entire gothic horror genre. You will meet the Frankenstein creature, Dorian Gray, Professor Van Helsing, the Grand Guignol Theater, and many other familiar characters who help to add color to the story. But while this mix is intriguing, I found "Penny Dreadful" not without flaws. The biggest drawback, in my opinion, is that the series is too slow and often plays more like a soap opera, as some of the episodes meander a little listlessly, getting lost in irrelevant subplots that do not contribute to the main plot at all. The entire Brona Croft storyline, comes to mind, along with all the romantic escapades surrounding Dorian Gray and the Frankenstein creature subplot. While some of these plot lines may feature in future episodes and may become of relevance then, I found that at this point in time they were played out with a heavy hand, disrupting the flow of the show's main plot line too much. In fact, the show develops so slowly that it takes until episode seven for it to really shift into high gear and fully deliver to its promise. Therefore the last few episodes of the season are clearly the best, culminating in memorable developments in the story that are every bit as gritty as the best horror movies. Too bad really that the show did not hone in on that kind of story development early on and instead loses precious screen time with its romanticized backfill and subplots. My hope at this point is that in the second season, the show runners will find the proper pace for the show and continue with the same kind of energy and impact they used to bring the first season to a close.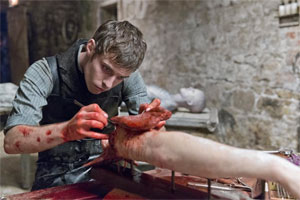 Having said all that, there can be no doubt, however, that Eva Green is absolutely staggering as one of the show's main characters. Her ability to transform from the modest Victorian lady to something entirely more sinister is magnificent to watch. You always know there is something boiling under the surface. Ever so often, there is a glimmer of it in her eyes, in the way she moves her head, and then, like a switch, it breaks through in full force, turning her into a completely different person. Absolutely breath-taking, I have to admit, and incredibly effective in creating a brooding sense of menace and danger throughout the show. You know something is wrong, but you just can't put your finger on what exactly it is.
She is supplemented by a cast that is more than capable and helps to bring the show to life, spearheaded by Timothy Dalton, who has been sorely absent from the screen for far too long. Like Green, Dalton has the ability to play simmering characters to perfection. You just know that his persona is not just Sir Malcolm, but that there is a dark past buried within him, full of secrets, full of regret and full of lethal determination.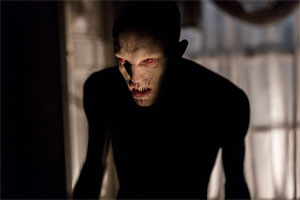 Presented on a three discs, this Blu-Ray version of "Penny Dreadful" delivers a 1080p high definition presentation of the show in its original 1.78:1 widescreen aspect ratio. The transfer is meticulously clean and devoid of any blemishes or defects. In fact, the presentation looks better than some movies on Blu-Ray, because its shadow delineation is simply perfect. Without a hint of banding or deterioration, the show's dark cinematography is brought to life perfectly on this release with solid blacks and clean highlights that never bleed or bloom. Colors are rich and the overall look of the show is natural throughout, conjuring up the filthy streets of Victorian England in all of their disgusting glory.
The level of detail is remarkable throughout, as even the tiniest bits of image information are kept intact, down to the tiniest twinkling of light in the cast's eyes. As far as TV presentations in high definition go, "Penny Dreadful" is definitely all the way up there at the top.
The audio on the release comes as a Dolby TrueHD 5.1 audio track. Like the video presentation it is top of the line with a remarkable mix that is aggressive and dynamic throughout. Surround channels are constantly engaged to draw the viewer into the shadowy world of the show, while dialogues are always understandable and perfectly balanced in the mix.
A number of bonus materials accompany the release, mostly comprising of a series of featurettes that cover various aspects of the production and the show as a whole.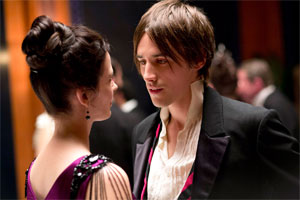 "What is a Penny Dreadful?" for example, examines the origins of the sensational pulp fictions stories that were in circulating during Victorian Times and still have their place in literature in publications such as my own "Jason Dark" adventures.
The featurettes then move on to the "Literary Roots" of the show, discussing the influences and sources where the show drew a lot of its characters from. From there, it goes on to explore subjects such as the look and feel of the show, the role of sex and prostitution during Victorian times, as well as the exploration of Africa by explorers such as the show's Sir Malcolm. A look at the state of medicine of the time is also part of one featurette, as well as a closer look at the Grand Guignol theater, whose reputation was of such import that the word has become synonymous with blood-spattering horror.
"Penny Dreadful" is a solid release. To its detriment, the show is meandering somewhat, especially during the middle, but it manages to build suspense, mystery, horror and intrigue towards the season's end, resulting in an ultimately satisfying season. It is not quite as shocking, or heavy on action and adventure as you might unsuspectingly expect, but instead plays like character drama for long stretches, drenched in blood and debauchery. Be that as it may, however, it is definitely worth checking out, particularly since the Blu-Ray presentation itself is absolutely splendid.