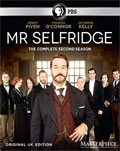 Mr. Selfridge: Season 2 (2014)
PBS Home Video
Cast: Jeremy Piven, Frances O'Connor, Ketherine Kelly, Ron Cook, Aisling Loftus
Extras: Deleted Scenes, Featurettes
Rating:
As part of the Masterpiece series, PBS Home Entertainment has just release the second season of "Mr. Selfridge" on Bl-Ray disc, giving fans of this British TV series a chance to experience the show close-up and at their own pace.
The show picks up five years after we last left Mr. Selfridge (Jeremy Piven) and his department store on Oxford Street in London, and things have been going well. Being the first department store in the metropolis, business has been booming and the store has flourished. Always standing by his high standards, Harry Selfridge makes sure he always stays at the pulse of the times, if not defining it. But war is looming on the horizon, clouding everything with a hushed sense of fear. Fortunately Agnes Towler (Aisling Loftus) is returning from her training in Paris, eager to take on the many promotional challenges the store presents her with.
But as war finally breaks out, Selfridge and his staff have to work extra hard to get people back into the store. Luxury items are simply not on people's minds in those days. Agnes feels overwhelmed with the burden cast upon her to continually create attractive and elaborate displays throughout the store in order to entice customers.
Things get even worse when Harry's name is smeared in the press and a wave of anti-British sentiment washes over the country, casting him and some of his staff in the shadow of doubt, as spies. These are turbulent times at "Selfridges" and to get through them takes all the positive attitude Harry can muster, along with cunning and a dash of showmanship. But with many of the store's young men going to war – and to their deaths – it is hard to keep morale up. It is all the more important for Harry and his family to have strong friends by their side to prop them up when they need it most.
As in the previous season, "Mr. Selfridge" focuses on a number of key players in selfridge's staff and household, to let the drama unfold that enshrouds these people's lives.The show is always very focused and despite the considerable cast, it never strays, it never gets lost in irrelevant details or sticks with characters of no import. Instead, it makes sure the central characters are the motor that drive this vehicle, giving each character a unique purpose in the overall mix. The show also introduces us to Lord Loxley, Lady Mae's husband, who becomes one of the major antagonists during this season, and the creators of the show could not have picked a better character to infuse the show with conniving meanness. Loxley is simply despicable antagonizing everyone, covering a base that was sorely needed in the overall mix. But whether it is blossoming romance, politicking or other challenges, this second season of "Mr. Selfridge" offers plenty for fans to enjoy and once again concludes just way too soon. Fortunately for fans, a complete third season has just been ordered a few weeks back, so we will be able to enjoy more of the glamorous exploits of Harry's life in about a year.
"Mr. Selfridge" arrives as a 3-disc Blu-Ray set from PBS that features all of the season's episodes in glorious 1080p high definition. It is easy to dismiss image quality for a TV show, because historically TV shows simply had lower production values, but more and more you will find that these TV series have a look and sense of authenticity that easily matches feature film productions. The same is true here, as the costume design, the lighting and the sets are incredibly rich and lavish, giving you truly the sense that you are entering the world around 1914. Lush and colorful, the production revels in all of its opportunities to show off its dazzling production. Highly detailed and with rich textures, the transfer is magnificent and without even the slightest flaws.
The release features a stereo audio track that perfectly suits the release, as the majority of it is character-based drama.
The release is rounded out by a selection of deleted scenes as well as a brief "Behind the scenes" featurette.
Just like the first season, this second season of "Mr. Selfridge" knows how to pull viewers in, build drama that never becomes melodramatic, and create characters that are as engaging as they are believable. Truly, the period of time that this show conjures up comes to live with no holds barred, thanks to the great production and the wonderful cast.