Boardwalk Empire: The Complete Third Season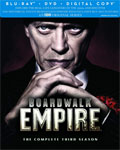 Boardwalk Empire: The Complete Third Season (2012)
HBO Home Video
Cast: Stev Buscemi, Kelly Macdonald, Michael Shannon, Shae Whigham, Gretchen Mol, Michael Stuhlbarg
Extras: Commentary
Rating:
Among one of my favorite TV series – although I never watch any of them during broadcasts and instead wait for their release on Blu-Ray – is HBO's "Boardwalk Empire, " a Prohibition-era show taking place in New Jersey where bootleggers and gangsters collide with each other and the Law. HBO has now released the third season of "Boardwalk Empire" and quickly I had to dive in.
Enoch "Nucky" Thompson (Steve Buscemi) never finds peace, it seems. Whenever he rids himself of one of his enemies, another one pops up, all too eager to encroach upon his territory, or one of his existing business partners makes trouble by trying to change the rules. And if that isn't enough, there's always the government, meddling with everyone's illicit affairs.
As the new season begins, Nucky has slowly recovered from the losses he took in season two and is once again standing proud and powerful. An exclusive distribution deal with New York's über-gangster Arnold Rothstein is supposed to make Nucky's operations simpler as he now has only one client to deal with to sell his whiskey to. But others take exception. Violent exception and before the first two episodes are over, mayhem ensues once again along the east coast as gangsters, pride and egos collide.
The only safe haven Nucky can find is in the arms of his new mistress Billie Kent (Meg Chambers Steedle), an aspiring actress in New York. But the frequent trips to New York to see her leaves him vulnerable at home, and soon Nucky finds that he needs more competent people on the home front to help him keep his business organized. Just as he decides to bring his brother Eli (Shea Wigham) back into the fold, all Hell breaks loose and season three of "Boardwalk Empire" is well on its way to become the most intoxicating and memorable season of the show's history.
The show's stellar cast returns in this season and the Rule of Three manifests itself clearly once again, making this season the strongest so far. (The Rule of Three says that it usually takes products three iterations to reach their peak. Almost any band's third album is usually the best. Any director's third movie is typically their break-through film, and so forth.)
Familiarly settled in their roles by now, the cast allows us to see nuances in their characters that add new dimension to them. Whether it's former agent Van Alden's gloomy descent, Margaret Schroeder's strength and decisiveness, or the menace lurking under the surface of many characters, this time, the show pulls all the stops.
On the whole, "Boardwalk Empire" is a fascinating show that deserves all the praise that is heaped upon it, though it is clearly not for everyone. The show is excessively violent at times – particularly this season is rampant with violent deaths – and flush with explicit nudity. Fortunately, it never overshadows the quality story itself and is used more like a tool to show the characters' lives and their all-bets-are-off sentiments.
HBO Home Entertainment is presenting the show in a 1080p high definition transfer on this release, in its 1.78:1 widescreen aspect ratio. The transfer is meticulously clean and does not exhibit even the slightest defects or problems. Rich in detail and definition, the image conjures up the look of the 20s with warm colors that are rich in hues and bold in their vibrancy. With solid black levels, the image has incredible visual depth, adding to the sometimes foreboding quality of the images on the screen. One could really not ask for a better presentation.
The same is true on the audio side. Coming as a DTS 5.1 HD Master Audio track, it leaves nothing to be desired. It offers a dynamic mix that is modern and makes constant use of the surround channels. With a good bass extension, the track sounds natural at all times and has plenty of bottom when it counts. Dialogues are well integrated and alway understandable without problems, further enhancing the quality of the overall presentaiton.
"Boardwalk Empire" arrives on five Blu-Ray discs and two DVDs containing the Digital Copy of the show. The set contain a number of bonus materials, such as commentary tracks on selected episodes. A series of featurettes is also part of the release, taking a closer look at the real history behind the show and how it has been woven into the story. In actual Newsreels and chronicles that take a look at some of the key locations you can get a sense of where the story draws its material from.
"Director's Chair" is a cool featurette that allows the directors to talk about the show and their approach, but best of all "Scorsese on Season 3" hands the microphone to award-winning director and executive producer of the show, Martin Scorsese, to share his perspective on the material. Priceless, is all I can say.
Also included are previews and recaps for each episode, as well as a 14-minute recap of the previous season to get you up to speed and a look at the season's new characters.
Once again, HBO and "Boardwalk Empire" deliver the goods in spades. This is one of the coolest shows around and it just keeps getting better. Make sure to put this set on your shopping list.