Sherlock Holmes: A Game Of Shadows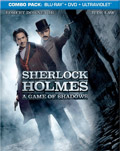 Sherlock Holmes: A Game Of Shadows (2012)
Warner Home Video
Cast: Robert Downey Jr., Jude Law, Jared Harris, Rachel McAdams, Noomi Rapace, Kelly Reilly, Stephen Fry
Extras: Maximum Movie Mode, Movie App Mode
Rating:
After the remarkable success of "Sherlock Holmes, " it was no longer a question whether a sequel would make its way to theaters, and I for one was eagerly looking forward to it. "A Game Of Shadows," the second film in the growing franchise, is now arriving on Blu-Ray Disc, courtesy of Warner Home Video and I was eager to see how it turned out.
Foreshadowed as an evil nemesis operating from the shadows in the first "Sherlock Holmes" movie, Professor Moriarty (Jared Harris) now takes center stage, as Sherlock Holmes (Robert Downey Jr.) and Dr. Watson (Jude Law) try to figure out what the criminal mastermind truly plans, and to stop his plans, whatever they might be.
On the eve of Watson's marriage to Mary (Kelly Reilly), Holmes discovers that Professor Moriarty is still using Irene Adler (Rachel McAdams) to do his bidding. It becomes evident very quickly that Moriarty's scheme is as large and intricate as a spider's web, spreading all across Europe and involving countless political heads.
To find out what Moriarty is planning, and to force his hand, Holmes goes for a brute force approach and meets the professor head-on, only to find the man even more ruthless, determined and cold-hearted than he ever expected. Instantly, Holmes realizes that he has to stop this man at any cost or the price would be devastating for all of Europe. All of the world, even, as Moriarty plans to throw all nations into a world war with his evil machinations
If you took exception with the first Holmes movie because you felt it did not really capture the atmosphere and feel of the Conan Doyle stories, you may not like this film either, as it goes another step further and creates a story that is exceedingly gritty and dark. Playing in a fully industrialized world where there is no room for romanticized Victorian gaslights, this movie is clearly using World War I as its atmospheric template.
Nonetheless, the film borrows fairly heavily from "The Final Problem," the Doyle story that features Moriarty most prominently, and does a remarkable job in conjuring up the magic that made the first film so successful. On a number of levels, "A Game Of Shadows" is even more satisfying as it replaces the whimsicality of the first film with a much more complex and layered storyline.
Robert Downey Jr. once again does a marvelous job portraying Holmes and his interaction with Law's Watson is what makes the film tick, though once again, their relationship is nothing like it has been portrayed in the books, but instead creates a much more dramatic and intense balance between the characters in which Holmes is still the dominant figure, though Watson is not nearly as mousey as in the books and definitely hands it back to Holmes in good measure.
Casting Jared Harris as Moriarty was a stroke of genius, really. The actor is not as well-known as to have diverted from the character itself, yet he is so sophisticated and accomplished an actor that he manages to make the evil professor his own. Dark and evil in an entirely intellectual sense for most of the film, Moriarty's menace is tangible in small gestures, enunciations, or just the twitch of an eye. There can never be any doubt that this man embodies the most evil and dangerous of mankind, in Harris' spectacular performance.
Arriving in a splendid 1080p high definition transfer, the movie presents itself every bit as glorious as you would expect. The image is incredibly detailed with even the finest of textures defined with excellence. Razor-sharp at all times and mustering black levels that you might not have known existed, the film makes the most of the high definition format. With its bold colors, deep shadows and high definition, the movie's cinematography stands out even more, creating a presentation that is so directly in your face that you will completely forget that you are watching a movie.
The same is true for the audio presentation. Featuring a brutal DTS 5.1 HD Master Audio track, the sonic experience of the film is every bit as explosive as the film itself. With its constant barrage of surround sound effects and the low end extension that gives your sub-woofer a run for its money, this track is as modern and engaging as they come, including the driving, syncopated score that adds tremendously to the frenzy playing out on screen at times.
The film arrives in a Blu-Ray/DVD combo from Warner Home Video, also featuring an Ultra Violet version, but it has not been accessible as of the time of this writing.
In addition, the release features a Maximum Movie Mode hosted by Robert Downey Jr. In this mode you get to see behind-the-scenes footage along with comments and thoughts by the actor, along with interview snippets, photo galleries and other production materials. Sadly, however, the disc does not contain good-old featurettes, and you have to rely on the Maximum Movie Mode to get your background information. Personally, I am not all that fond of this approach and would prefer options. Let me see it as a video commentary if I so choose, but also allow me to access the material in a non-linear fashion, please.
To make up for that, Warner supposedly created the Movie App or the iPad. I found that one completely unsatisfying, however. The navigation of the app was completely unintuitive and what's worse, it did not allow me to control what I actually wanted to control ��" the flow of information and the movie. In this "app mode," you can no longer use your player's remote control and the app doesn't give you even the most basic functionality. In addition there is virtually no interactivity, so the idea of accessing bits of information you might be interested in at any point in time just does not work. so, while generally a nice concept, the second screen movie apps still have a long way to go before they become really usable and satisfying in what they try to do.
I loved "Sherlock Holmes: A Game Of Shadows" in theaters and found that this repeat viewing on Blu-Ray only adds to the film's appeal. Not only do you discover new layers to the film and the story, but you also begin to realize just how well put together a film it is, where everything meshes and functions like clockwork. You don't get to see this in movies much anymore.