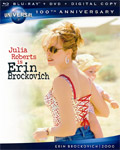 Erin Brockovich (1999)
Universal Home Video
Cast: Julia Roberts, Albert Finney, Aaron Eckhart
Extras: Deleted Scenes, Featurettes, Spotlight on Location, Digital Copy
Rating:
It is hard to believe but it has been 13 years since Steven Soderbergh released "Erin Brockovich." Long enough, almost, to no longer remember the "sexual favors" trailer that Universal used to bring the film to people's attention at the time. A trailer that certainly helped get people's attention, despite the fact that it was a bit misleading in terms of the movie's actual content and intentions. Unlike what the suggestive line in the trailer may indicated, Erin Brockovich is a young woman who uncovered an environmental scandal in California and made sure that the people causing the disaster were held responsible. In celebration of the studio's 100th anniversary, Universal Home Entertainment is now bringing the film to high definition also and we took a closer look for you.
Erin Brockovich (Julia Roberts) is a young woman and single mother, living on the brink of poverty with her three children. Out of luck and out of a job, though certainly not for lack of trying, Erin is reaching a point where she is downright desperate to find new employment, but no one is willing to give the brash young woman a chance.
One day she is hit by a car that ran a red light, and she ends up in the office of small time lawyer Ed Masry (Albert Finney) to have him handle her damage claims case in court. Masry promises the young woman that he would succeed, but the ruling turns out to be not in Erin's favor, despite the fact that driver of the other car was obviously reckless and distracted.
Aggravated and frustrated, Erin turns on Masry and demands that he hire her – you have to see how she's going about that – in order to give the single mother at least some financial support after failing her so miserably in court. Reluctantly, Masry agrees, much to the dismay of his other employees who have little respect for the provocative young woman. Within moments, the feisty Erin makes a lot of enemies in the office with her unabashed remarks and disobedience of office politics.
One day, while filing away old papers, Erin notices a strange file, in which a medical document is attached to a home sale. Confused by the connection of the two, she tries to find out what is going on and when she begins talking to the people involved she suddenly realizes that she had just stumbled over a large-scale environmental cover-up. A company had knowingly dumped chemically enriched water into local ground waters and was conducting surveys to see if anyone noticed the toxic side effects. As soon as Erin realizes the scope of this cover-up, she starts a monumental lawsuit against the company. But in order to bring this giant corporation to its knees she would need a lot more than guts. She would need a lot of witnesses and money, and the fact that Ed Masry is slightly overwhelmed by the scope of the suit, doesn't exactly make things easier. Erin rises to the occasion and the young woman turns into a ferocious opponent that leads an entire city through America's largest civil action lawsuit.
"Erin Brockovich" works on two separate layers. One of them is the obvious suspense generated by the cover-up plot and the scheming attempts by the corporation to intimidate anyone remotely involved in the case. While well presented and dramatically set up, it was the emotional element of the movie was what made it work for me, however. From the self-preservation focus to feed her family, Erin Brockovich grows throughout the film. Her skills and abilities increase as she makes herself familiar with law papers and practices, and over time even her diplomatic skills becomes somewhat tamed and more focussed on her intentions.
But it is her emotional world where we see the biggest changein Erin. She finds that, despite her problems, she's not so bad off, after all. Maybe a little short on money, but she has the most important thing any human being can have – health. Many of the victims of the environmental disaster are left with cancer and other diseases, and all of them have to watch their own children suffer and die. It is enough to nearly drive Erin insane and the well-being, the recuperation of the people becomes more important to her than her own life. It is only with this commitment that she keeps working on the case, preparing all critical pieces to ensure that she is presenting a flawless case that cannot be dismissed in court. All the while she is suffering with the victims that she is dealing with every single day.
In the end she succeeds, and it is a very touching moment in the movie, although we all know that no money in this world can compensate for the suffering these people had to go through, caused by corporate greed and irresponsibility.
Entirely without melodramatic moments, "Erin Brockovich" plays like a conspiracy story that echoes films such as "All the President's Men," and along the way viewers will suddenly notices that they have developed this incredibly strong emotional attachment to Erin, her ambitions and even more so to the victims of the scandal. It is a wonderfully fluent film, as this development is hardly noticeable. Director Steven Soderbergh once again used his talents to bring engaging characters to the screen that are real and tangible. Perfectly cast, Julia Roberts is better than ever, showing us all sides of Erin Brockovich with no holds barred. Whether she's mouthing off, trying to be a good mother, teaching stiff lawyers a few real-life lessons, or simply giving her support to those in need, Julia Roberts becomes an inspiring Samaritan that is every bit as believable as you or me. Albert Finney's performance as the small time lawyer who's more intimidated by the prospect of the case than Erin herself, also comes across as a very human character. Rough at times, grumpy at others, but always willing to give Erin a second chance to succeed and to prove herself.
Universal Home Entertainment is presenting "Erin Brockovich" in a glorious 108-p high definition transfer on this release. The movie offers an incredible level of definition throughout that is never once marred by blemishes or grain. Solid black levels give the image good visual depth and provide for strong, deep shadows. Colors are very well reproduced; always warm and neutral, making this wonderful presentation to behold.
"Erin Brockovich" contains a DTS 5.1 HD Master Audio track that is active and well balanced, making good use of the surround channels. the mix is expansive and features some surprising surround effects that give it a very modern feel. With a good bass extension and wide frequency response the track sounds very natural throughout and has plenty of punch when needed. Dialogues are very well integrated, always maintaining an understandable level that isn't drowned out by the music of overly aggressive sound effects.
You will find the "Spotlight On Location" featurette on the release that has been culled form the DVD release. It takes you behind the scenes of the production and also gives you a chance to meet the real Erin Brockovich – who also appears in a small cameo in the movie itself. With a series of interviews by cast members and director Soderbergh, it becomes obvious how attached everyone must have been to this particular project. It almost feels as if this wasn't a film they wanted to make, but more a film that they felt they HAD to make!
You will also find a separate section on the disc that is dedicated to the real Erin Brockovich. In an interview she recalls many of the events that we got to see in the movie, giving additional insight into her motivations at the time and her feelings, ending in a truly touching, emotional moment.
The disc also contains a selection of deleted scenes with commentary by director Steven Soderbergh in which he sets up each scene and explains why he decided to remove it form the film. Interestingly, this is not your typical throw-away material and I felt that a number of the scenes included in this segment are very good material that could just as well have made it into the film – but I guess at the current 122 minutes there just wasn't the room.
Since this is a 100th Anniversary Edition, the disc also contains two featurettes to celebrate the studio, and you will find "100 Years of Universal Academy Award Winners" on the release, along with "100 Years of Universal: The Lot." I have found all of these celebratory featurettes entertaining and insightful on previous discs, and these new ones are no exception, so make sure to check them out to learn more about the history and legacy of Universal Studios.
"Erin Brockovich" was an instant classic and holds its own place in Steven Soderbergh's impressive list of films. It is a movie that makes you think and it is a film that will keep you thinking even after it is over. As powerful and determined as Erin Brockovich herself, the film presents itself as a very determined and resourceful picture of events that is truly inspiring. Like classic films in the same vein, such as "The China Syndrome", "Erin Brockovich" is a movie that begs to never be forgotten!