Tinker Tailor Soldier Spy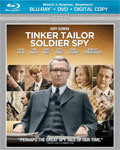 Tinker Tailor Soldier Spy (2011)
Universal Home Video
Cast: Gary Oldman, John Hurt, Colin Firth, Mark Strong, Toby Jones, Ciar�n Hinds
Extras: Interviews, Deleted Scenes
Rating:
John le Carré used to be one of the greatest writers of spy novels in the Cold War era. Conjuring up plots of intrigue and betrayal that were twisted with mystery and characters that put up an impenetrable facade, le Carré always knew how to keep his readers enthralled. Many of his books have been turned into movies but with the Cold War a thing of the past, it has been quiet around his properties. Too quiet, perhaps, as "Tinker Tailor Soldier Spy," a new movie based on his book "Smiley's People" proves.
After a botched attempt to find a mole among their own ranks that leaves one of their agents dead, Control (John Hurt) and Mr. Smiley (Gary Oldman), heads of the British Intelligence Service are being ousted unceremoniously. The problem is, the mole is still in service, giving away the country's sensitive secrets to the Russians.
To root out the problem, the Prime Minister secretly approaches Mr. Smiley, giving him the opportunity to redeem himself. Find the mole! And so, Mr. Smiley launches a stealthy, secret investigation into his own people, trying to find out who the double-agent is.
"Tinker Tailor Soldier Spy" is a masterful spy thriller, but one that may not appeal to everyone. Slow and deliberate, the film does not use action and violence to set its pace, but instead deals in secrets and suspicion. Lengthy shots of Gary Oldman, reflecting on events that may give him clues, the film has more of a mystery feel than that of a modern day thriller. And yet, the ever present sense of danger that permeates the film keeps the audience on edge.
Masterfully put on the screen, "Tinker Tailor Soldier Spy" relies heavily on its wonderful cast to bring the story to life and to make the cold fear tangible. Gary Oldman brings a respectability and rooted calm to the film that is at the center of it all. The incredibly diverse actor once again shows that unlike many of Hollywood's superstars, he is not repeating to play himself over and over again. With every new part, every new movie, Gary Oldman reinvents himself, becomes someone new. His Academy Award nomination for this movie was well deserved and though he might have been denied the ultimate win, his portrayal here once again shows that he is one of the best actors around.
Oldman is supported by a stellar cast, consisting of Colin Firth, Mark Strong, Toby Jones, Ciarán Hinds and many others. As a group, they build this isolated world of lies and intrigue that slowly collapses upon itself.
Universal Home Entertainment is presenting "Tinker Tailor Soldier Spy" on this release in a perfectly clean 1080p high definition transfer that is free of blemishes and offers a remarkably detailed look at the film. The color palette is understated, reflecting the cold reality of the espionage business, but nonetheless managing to paint up some warm corners of hope, little sanctuaries where the evil of men does not penetrate. With its solid black levels, the transfer also offers up deep shadows that give the picture visual depth.
The audio presentation of the film arrives via a DTS 5.1 HD Master Audio track. Understated, like the film as a whole, the track is very clean and clear but does not make overly aggressive use of the surround channels. It serves the story well, however, adding to the harsh coldness of the material with its crisp and clear mix.
Among the bonus materials on the release you will find interviews with cast and crew members, including Gary Oldman, author John le Carré and others. Also included is a selection of deleted scenes.
"Tinker Tailor Soldier Spy" is an understated film that moves at a deliberately slow pace. But don't get fooled by its lack of action. This film packs a serious punch in the mindgame department. Make sure to grab a copy and check it out for yourself.