Pirates of the Caribbean: On Stranger Tides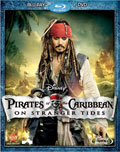 Pirates of the Caribbean: On Stranger Tides (2011)
Buena Vista Home Entertainment
Cast: Johnny Depp, Penelope Cruz, Ian McShane, Kevin R. McNally, Geoffrey Rush
Extras: Commentary Track, Bloopers, Lego Short Film, Second Screen Feature
Rating:
No one, I think, could have predicted how successful and beloved the "Pirates of the Caribbean" franchise would become when Disney first announce plans to turn the theme park ride into a full-fledged movie. And yet, here we are with the fourth film in the series, and two more already in the works, and the appeal of these films is easy to see. They are colorful adventures, filled with quirky characters, eye-popping backdrops and a lot of humor, all the while cashing in on established pirate lore. As such, "On Stranger Tides" introduces us to the nefarious pirate James Teague, better know as Blackbeard.
As Captain Jack Sparrow (Johnny Depp) has successfully dealt with Davey Jones in the past movies, he now sets his eyes on a new price — the Fountain of Youth. But he's not alone in his quest. The Spanish are on the hunt, too, as is the King of England, and some unknown captain who impersonates Jack Sparrow!
Trying to make sense of the mess, Jack follows some leads and is promptly pressed into the crew of the infamous Captain Blackbeard (Ian McShane). Blackbeard — naturally — also wants to get his hands on the Fountain of Youth and thus ensues a race to eternal life that is strewn by quirky encounters, battles and dangers, not to mention mermaids and other creatures of the netherworlds.
It is hard to see "Pirates of the Caribbean" without the characters of Will Turner and Elizabeth Swann, as they were such essential characters to set up the franchise, but fortunately, the story itself makes sure to soon let us forget about them, as we are introduced to an equally colorful cast of players. I am not a fan of Penelope Cruz, never have been, and as such it took some time for me to get past her blathering, but once I did, I felt the story had a lot of great angles that were played up nicely. The film really takes off, however, once we meet Captain Teague as Ian McShane's cold-blooded portrayal of the pirate puts the film into the kind of territory we have come to love — a direct conflict between Jack Sparrow and his opponents that keeps going back and forth.
Arriving on Blu-Ray Disc with a marvelous 1080p high definition transfer, "Pirates of the Caribbean: On Stranger Tides," the film looks every bit as splendid as one could have hoped. Incredibly rich in detail, the film renders all textures with staggering definition, giving a richness to the picture that adds dramatically to the overall experience. Colors are vibrant throughout while black levels create an image that has plenty of visual depth and offers up shadows that never break up or lose detail.
A DTS 7.1 HD Master Audio track complements the feature presentation, making this movie an experience at home that rivals – if not exceeds – a theatrical presentation. A wide frequency response with clear, undistorted treble and a low bass extension give this track the ability to full reproduce the production, while the wide dynamic range allows the audio to work its full magic from the lowest to the loudest moments.
The release features an audio commentary that features director Rob Marshall, along with executive producer John DeLuca. It is full of insight and offers plenty of solid information on the movie and its production.
Also included are a handful of bloopers, some of which are funny, though most of them consist merely of the actors falling into a hapless chuckle. Further you will find an animated Lego short film on the disc to help promote the Lego video game, plus the "Second Screen" feature, which allows you to access additional materials on your iPad while watching the film.
"Pirates of the Caribbean: On Stranger Tides" is another great entry in the franchise. I have to admit that while I enjoyed the film in theaters, I was not entirely smitten with it. It was only after a repeat viewing on this Blu-Ray release that I was able to take in the entire charm of the film with all its nuances and subtle plot devices.
Arriving as a Blu-Ray/DVD combo, this is a very cool release and a very cool film. The only disappointment for me was the lack of a Digital Copy, though, which would have allowed my son to enjoy the movie over and over again on the iPad while traveling. Other than that, it's a perfect package.