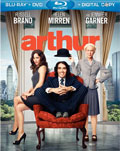 Arthur (2011)
Warner Home Video
Cast: Russell Brand, Helen Mirren, Jennifer Garner, Greta Gerwig
Extras: Deleted Scenes, Gg Reel, Featurette, Digital Copy
Rating:
I have to admit, the rend of recent years to remake every movie imaginable annoys me. Not only for the fact that in many cases there is simply no reason to remake a great movie, but what really rubs me the wrong way is the fact that most of these remakes are done so inaptly, as if the people in charge of the remake never even took the time to understand what made these original films tick. Naturally, when "Arthur," the remake of a 1981 dramedy starring Dudley Moore and Liza Minelli, made a showing on my desk, I was more than reluctant to give it a shot. I did nonetheless.
The story of "Arthur" revolves around a middle-aged millionaire (Russell Brand)who is spoiled to no end. Having had everything his way since birth, the boy has no idea of what is right or what is wrong and to top things off, he cannot find satisfaction in anything he does. So he turned to the bottle a long time ago.
When his family threatens to cut him off the family riches unless he marries gold-digging socialite Susan (Jennifer Garner). But even though Arthur agrees to marry Susan, his heart truly beats for Naomi (Greta Gerwig), a young free-spirited woman he met. And thus, the problem and struggle ensues for Arthur to get the girl of his dreams while also keeping his family millions.
I think it is easy to see Russell Brand in this part and even without seeing the movie, it is easy to have the film unfold before one's mind's eye without even watching it. The story is so familiar and banal that is almost tells itself. Sadly, that is what is happening. The story tells itself without surprises and without depth. While the original film with Dudley Moore turned the corner into drama really well, portraying Arthur as a character with dimension and emotion – moreso, he showed the devils of alcoholism in a way that does not make it look hilarious or enticing. Here, Arthur is really just a vehicle for Bland's shtick, including the rockstar lifestyle image the star has branded himself with, in which alcoholism seems to be part of the "fun." Sorry, but that doesn't fly with me… Somehow the comedian begins to remind me of Will Ferrell who just keeps playing the sam character over and over again ad nauseam.
To make matters worse, not only does the film not take the opportunity to create dimensional characters, it makes them dive headlong into melodrama – tedious moments of superficial heartache that just don't do anything for the film, and not even Helen Mirren can pull this sinking boat to safety.
"Arthur" arrives on Blu-Ray in a 1080p high definition transfer that is stunningly clean and clear. As it is a brand new movie, one expects no less, of course, but I was pleased to see how well detail held up in the transfer and how the color palette recreated the bustling of New York City so naturally.
A DTS 5.1 HD MAster Audio track accompanies the film, giving it the sound bed that it needs. Sometimes bustling with activity, it is, at other times, nicely ambient and subdued for effect. Dialogues are well integrated, making for a balanced presentation, while the wide frequency response ensures that the film's score and sound effects can run the full gamut from the lowest basses to the highest registers.
As extras, "Arthur" also contains a gag reel and a selection of deleted scenes. The heart of the special features, however, is a featurette called "Arthur Unsupervised" in which Russell Brand and director Jason Winer uncover a lot of fun things about the film.
"Arthur" is not all bad and it does have really funny moments. However, in comparison to the original 1981 movie it simply pales and comes across as a cheap peel-off that never managed to live up to its real potential.