Space 1999: The Complete First Season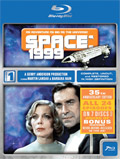 Space 1999: The Complete First Season (1975)
A&E Home Video
Cast: Martin Landau, Barbara Bain
Extras: Music Only Tracks, Commentary Tracks, Featurettes
Rating:
Think about 'Lost' for a second. It was a big budget science fiction story that captured the nation by storm. While it may have lost some viewer as the series went on and ended on a controversial 'revelation' of mysteries, there is no denying the impact it had on television. There have been all sorts of shows trying to bottle the magic that the first two seasons of 'Lost' captured. Rewind a few decades and there was another big budget sci-fi series on the boob tube. Created by Gerry and Sylvia Anderson ('Thunderbirds'), 'Space 1999' was a series with a ton of promise. 'Star Trek' was gone and fans needed a good genre show. Keep in mind; this was 'back in the day'. There weren't hundreds of channels to choose from or movie rentals to pass the time. Public television was one of the major pieces of entertainment in 1975, so the promise of a new tale in space seemed like a match made in heaven.
The twenty-four episode arc of season one focuses on the inhabitants of Moonbase Alpha. Earth has decided to store its waste on the far side of the moon, which ultimately caused a buildup of magnetic radiation. On September 13, 1999, this buildup exploded and shot the moon out of orbit and into space at a high speed. Led by Commander John Koenig (Martin Landau), the 311 inhabitants are now stuck on this runaway moon spacecraft. The episodes center around encounters within the universe and how the 'crew' deals with their perilous situation. While this seems like endless possibilities in regards to plot and storytelling, 'Space 1999' oftentimes comes across as cold and stoic. Episodes feel long and drawn out at times and the drama trivial. One of the draws that has kept the flame burning for 'Star Trek' for so long is how progressive the storytelling and imaginative possibilities were. This life seems to be missing from 'Space 1999'. The cult series may have a rabid fanbase, but 'Space 1999' did little to impress this 2011 kid.
Production value is also a bit of an uphill battle for 'Space 1999'. The set design and effects, obviously influenced by '2001: A Space Odyssey', was created by Brian Johnson (who actually worked on Kubrick's wonderful film). For network television, the visuals are impressive and no doubt enhanced by the high definition upgrade. For every beautiful shot of the galaxy, there are some oddities as well. Even television suffers from budget constraints and there are moments in the series when this is painfully obvious. The use of miniatures certainly takes away from the appeal of a progressive sci-fi show and, along with a few other items, gives the series an imbalance that is difficult to deny.
While the series may be a bit dry, the high definition transfer of all twenty four 'Space 1999' episodes is stellar. Presented in 1080p, this AVC encoded 1.33:1 full frame presentation pops in a great way. The black levels are very deep and just accentuate the vast amount of white that ends up on the screen at any given time. The somewhat bland (white, natural) set pieces are accentuated by various colors that really stand out onscreen. Seeing the beauty of earth against the dark universe is another area where color is at its best. 'Space 1999' may have missed the mark in story, but the technical presentation is just now being recognized for how outstanding it was.
The DTS 5.1 soundtrack is a nice addition, though underutilized. As sci-fi fans, we are spoiled today with sounds coming from every angle, but 'Space 1999' wasn't designed for this type of sound field. While some enhancements could have been made to engulf viewers in the experience, much of the dialogue and action are limited to the front field. Everything is balanced well and there is even an option for Mono sound (the purists out there will love that). Twenty two of the episodes also include a music only track. I am a HUGE fan of this being included with Blu-ray releases. I hope 'Space 1999' and 'Inception' can help pioneer this sweet addition to the discs.
In addition to the music only tracks, 'Space 1999' comes with a lot of additional material. On the Blu-Ray, you will find the following:
• Music-only tracks on all episodes except 'Breakaway' and 'Dragon's Domain'
• Anderson commentary on 'Breakaway' and 'Dragon's Domain'
• Extensive HD image galleries of rare and previously unseen stills
• HD image galleries of gum and cigarette cards
• HD restored, textless titles
The two standard definition DVD's contain the bulk of extra features and is highlighted by Sylvia Anderson's interview. Let's just say that she doesn't hold back when she talks about Martin Landau and his then wife, Barbara Bain.
• These Episodes" featurettes
• "Memories of Space" featurette
• Sylvia Anderson interview
• Series One textless generic titles
• "Concept and Creation" featurette
• Special effects and design featurette
• Text episode commentaries on The Last Sunset and Space Brain'
• "Clapperboard" two-part special on the work of Gerry Anderson from 1975
• "Guardian of Piri Remembered"
• Barry Gray's theme demo
• Alternative opening and closing titles
• Martin Landau and Barbara Bain US Premier intro and outro
• SFX plates and deleted SFX scenes – with music track
From a Blu-Ray standpoint, 'Space 1999' is a pretty good release. It has great video presentation, solid audio, and a lot of supplements to please longtime fans of the series. Unfortunately, I am not one of those fans. I found the episodes to be slow and at times uninspired. I respect those who follow the show so eagerly, I just prefer a little more oomph in my television experiences.