Scott Pilgrim Vs The World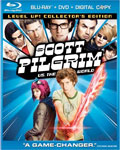 Scott Pilgrim Vs The World (2010)
Universal Home Video
Cast: Michael Cera, Mary Elizabeth Winstead, Ellen Wong
Extras: Commentary Tracks, Featurettes, Deleted Scenes
Rating:
Scott Pilgrim (Michael Cera) is a 23 year old slacker with a broken heart. A year prior, his girlfriend dumped him and he hasn't been the same. The film finds Scott between jobs and hooked up with a 17 year old high school girlfriend named Knives Chau (Ellen Wong) who absolutely LOVES Sex Bob-Omb, the band Scott plays in. It seems that Scott has finally found the road to recovery. Then he has a dream. This dream has a dream girl. She is a purple haired, rollerblading, epic on all levels, mysterious woman. Scott wakes up and quickly realizes that she is more than a figment of his imagination. She is Ramona Flowers (Mary Elizabeth Winstead). He finds her and begins to awkwardly woo her. She accepts his advances and the two begin a lovely path in life. If only it were that easy. Ramona has seven evil exes that Scott must defeat before the two can ride off into the sunset. Can Scott find victory before the game is over or will Ramona always be the unattainable girl of his dreams?
Based on Bryan Lee O'Malley's graphic novel series, the source material found its cinematic Ramona Flowers in Edgar Wright. After 'Shaun of The Dead' and 'Hot Fuzz', Wright proved he could entertain audiences with an energetic blend of humor and storytelling. With an obvious love for the world of Scott Pilgrim, Wright quickly defines the film as sugar coated fun that caters to the comic book loving, video game loving, music loving, and film loving audience in a major way. The blend of these various forms of art can be found throughout the movie. Sound effects are spelled out onscreen as they would be in a comic strip. When Knives declares her love for Scott, the pink dust cloud words float from her lips towards him. The struggling band can't seem to find audiences on film, but cranks out some sweet sounds that will get a toe tap or a head nod out of those seated in the theater. Then there are the battles. When Scott fights one of Ramona's evil ex boyfriends (Evil Exes!!!) it is like standing in the arcade watching someone play Street Fighter 2 for the first time. The battles are over the top fun that will tug at the nostalgic heart strings of gamers everywhere. There is style and flash throughout the film, but under all of the action 'Scott Pilgrim Vs. The World' is a love story. It sets Ramona Flowers up as a girl that anyone would want to be near. Amidst all of the flair, the film never loses sight of Scott's desire to be with Ramona and this is what gives the movie such a charming pulse. As he gets closer to her, he matures as an individual. His growth mirrors the 'power-ups' found in video games and continues to blend the fantasy and reality in a beautiful way that will find eager ears which may have tuned out the message in other films. 'Scott Pilgrim Vs. The World' doesn't tell a unique story. It tells a well known story in such a unique way, audiences will want to tune in for the message.
How about the cast? It is perfect. Michael Cera brings the geeky innocence that he is known for to Scott Pilgrim and the union couldn't be better. He is hip enough to be in a rock band, but not enough to escape the wrath of his roommate Wallace Wells (Kieran Culkin) or sister Stacey Pilgrim (Anna Kendrick). Ramona Flowers is mysterious and alluring. She is a trendy loner who desires love, but can't seem to find it. Mary Elizabeth Winstead IS Ramona Flowers. She is beautiful and seems to draw attention towards her in an effortless manner. The chemistry between Scott and Ramona is vital for the film to succeed. The two leads will remind audiences of the school yard crushes from yesteryear (or yesterday depending on your age). The exes are standouts in their own regard. Lucas Lee (Chris Evens) is hilarious as a self-centered action star. Brandon Routh may finally shed his 'Superman' image in his turn as Super-Vegan Todd Ingram. The highlight of the exes is without a doubt Gideon Gordon Graves (Jason Schwartzman). His smarmy, passive aggressive attitude will put audiences in Scott Pilgrim's shoes and have them begging for the final battle.
With an AVC encoded 1080p transfer, I expected the 1.85:1 aspect ratio of 'Scott Pilgrim Vs. The World' to pop a bit more. Don't get me wrong the picture quality is outstanding, but given all of the flash provided in the film, the overall feel of the picture quality is a tad soft. The plus side of a soft picture is the transfer maintains more of a film-like quality. The detail in the film is fine, but fleshtones are a bit off. With all that is going on in the movie, these nitpicks are fairly minor. A surface glance at the picture quality of 'Scott Pilgrim Vs. The World' will please 95% of those who watch the Blu-ray.
From the 8-Bit Universal intro to the poppy garage rock infused Sex Bob-Ombs, the lossless DTS-HD 5.1 Master Audio Mix is a blast. The soundfield in your home will be active for 112 minutes as all major sound elements are ready to please. The bass war between Scott and Todd will work the subwoofer while cross-channel effects add life to other battle scenes. It is amazing that given the amount of action onscreen, the dialogue levels never suffer. 'Scott Pilgrim Vs. The World' is in your face and is certainly on my short list of best sounding Blu-ray's this year.
Universal has always been great about packing their releases with extra features. They may have even included the kitchen sink with this release. There are hours of quality supplements packed onto this disc. In addition to the DVD and a digital copy of the film, the Blu-ray includes a 'Feature Commentary with Director/Co-Writer Edgar Wright, Co-Writer Michael Bacall, and author Bryan Lee O'Malley'. These three participants are obviously very comfortable with one another. Their joking with one another starts almost immediately and the laughs begin to cram a ton of information regarding the creative process in adapting Scott Pilgrim from a graphic novel to a feature film. This is a laid back commentary that provides educational entertainment. The second is a 'Technical Commentary with Director/Co-Writer Edgar Wright and Director of Photography Bill Pope'. Bill Pope records his first commentary with an enthusiastic Edgar Wright as the two discuss shots, locations, effects, and other odd facts about making 'Scott Pilgrim Vs. The World'. Given the focus of the commentary and Pope's soft spoken way, this track is a bit drier. Next is a 'Cast Commentary with Michael Cera, Jason Schwartzman, Mary Elizabeth Winstead, Ellen Wong, and Brandon Routh'. Cast commentaries tend to lean towards the silly side and this one is no exception. There are a lot of off the cuff jokes and teasing amongst one another, but the group does manage to pull it together quite a bit to add their individual thoughts on the scenes. They chase a few rabbit trails from time to time, but overall the commentary is entertaining. The fourth and final track is another 'Cast Commentary with Anna Kendrick, Aubrey Plaza, Kieran Culkin, and Mark Webber'. The last commentary is a bit more scattered and uninspired until the caffeine starts to kick in for the group of coffee drinkers. Evidentially, the group had attended the film's premiere the night before and had a bit much to drink. Once the effects of the hangover start to wear off, the group perks up a bit more and delivers a commentary that mirrors the previous cast commentary.
The 'Deleted Scenes' (27:12) come with an optional commentary by Edgar Wright with a focus on cuts and panels from the comic that were filmed, but never made it into the final cut. 'Scott Pilgrim vs. the Bloopers' (9:42) is a fun look at some behind-the-scenes goodies including all of the Michael Cera's attempts trying to make an over the shoulder basket. 'Making of Scott Pilgrim vs. The World' (49:33) is a two chapter documentary filled with interviews, animation, behind the scenes shots, rehearsal footage and more. A 'Music Featurette' (16:27) has Edgar Wright and other crew members discussing the musical influence within the film and how the fictional bands were developed and given a pulse. 'You Too Can Be A Sex Bob-Omb' (2:42) gives a chord breakdown as Mark Webber learns a Sex Bob-Omb tune for the first time. 'Alternative Edits' (12:21) and 'Bits and Pieces' (6:51) play out like a younger brother to the deleted scenes and bloopers. They showcase additional scenes and candid moments during the shooting schedule. 'Pre-Production' (1:27:32) is a lengthy look at early footage, animatics, rehearsal videos, props, rigs, sets montage casting tapes, and hair/make-up footage. The 'Music Videos' (9:47) give Sex Bob-Omb fans the music they have been waiting for as all of their songs are featured along with a Clash at Demonhead performance. The OSYMYSO Remixes (9:27) is a pretty cool audio/video remix combining clips from the film and music to create some pretty cool promo pieces. 'Visual Effects' has close to twenty minutes of before and after footage along with a musical montage with many of the actors in front of the blue screen performing various stunts. 'Soundworks Collection: Sound For. A Film Profile' (5:43) takes a step away from music and has some crew members discussing the sound effects in 'Scott Pilgrim' and how Edgar Wright was particular with the sounds he wanted for action scenes in the film. 'Adult Swim: Scott Pilgrim vs. the Animation' (3:48) is a cool cartoon that adds a bit of depth to the film with a bit of backstory on Scott and Kim. 'Scott Pilgrim vs. The Censors: TV Safe Version' (4:11) shows that even a PG-13 movie has plenty of dialogue that needs to be trimmed in order to be approved for network television. Rounding out the disc are blogs, galleries, a trivia track, theatrical trailers, TV spots, and video game trailers.
Being BD Live enabled, there will always be fresh trailers playing when the disc is loaded and, for a limited time, those who purchase the Blu-ray get the added bonus of a free HD download of 'Tremors' or 'Pitch Black' courtesy of pocket-BLU.
There is no need to be familiar with the source material before watching this flick. Edgar Wright has taken 'Scott Pilgrim Vs. The World' from the comic book store and turned it into a highlight in 2010's film lineup. Universal upped the ante by rolling out the red carpet for Scott Pilgrim fans with a spectacular Blu-ray presentation loaded with extra features. In an era where comic book adaptations are more common, Scott Pilgrim has managed to take on more worlds than one. Edgar Wright has assembled a stellar cast, allowing 'Scott Pilgrim vs. The World' to defeat other films and make a case as one of the greats to be translated from comic book to silver screen and now Blu-ray. The energetic pace of a fantasy coupled with the reality of being love struck has never come together in such a unique way. This Blu-ray earns my highest recommendation!