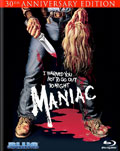 Maniac (1980)
Blue Underground
Cast: Joe Spinnell, Caroline Munro, Tom Savini
Extras: Audio Commentaries, Featurettes, TV Spots
Rating:
The horror genre is all about make believe. From animatronics and masks to corn syrup and CGI, filmmakers strive to create the perfect atmosphere for their movie. Every once in a while, a movie crosses the line of illusion and finds itself in a very realistic situation. It taps into a story that is very similar to many of the articles that fill up newspapers each day. Far from Elm Street is Frank Zito (Joe Spinell), a mild mannered man with some dark secrets. He is the killer who has been terrorizing New York. With an eye for models and an undying devotion to his mother, viewers are thrust into Joe's world with a personal journey into the mind of a 'Maniac'.
Maniac is one of those rare films that takes the raw, gritty reality of everyday life and showcases the horror within. Frank Zito doesn't put on a mask, kill people and then hang their bodies in fun places for friends to find. To the general public, he is a fairly normal man with decent manners and a strong opinion on photography. It is behind closed doors where Frank shows his true colors. He combines the role as the ultimate mama's boy with a psychotic behavior that is difficult to comprehend. While I have the utmost respect for Norman Bates (Psycho) and Ezra Cobb (Deranged), those characters are just a blip on the insane radar of Frank. This Ed Gein inspired maniac seeks out new victims rather than waiting for them to come to his hotel or house. Frank's initiative extends the circle of horror from the woods or a neighborhood block to an entire city. It is horror without borders, complementing Frank's strong social skills and providing him with a twist that many masked killers in slasher films lack.
'Maniac' was originally shot in 16mm and blown up to 35mm, so it is understandable that a 1080p MPEG-4 AVC encoded transfer is not going to be reference material for blu-ray owners. Most are probably curious how it stacks up against previous DVD releases. The high def release does improve on the detail level and colors are much more vibrant than those found on DVD. The gritty feeling of Maniac is magnified with the level of grain from the source material. The primary use of natural light has given the film an uneven feel when it comes to flesh tones and color balancing throughout. Does any of this bother me? No. Having been blown up from 16mm and with such a small budget, Maniac is expected to be rough around the edges. The rough look adds to the film. I commend the release based on the substantial improvement over an already great DVD.
Blue Underground has always been great about giving their releases major upgrades in the sound department. Sporting 7.1 DTS-HD Master Audio, Maniac has a lossless track which may turn a few heads. Again, given the limitations of the source material, Maniac manages to fill out the surround field with ambient New York sounds and the outstanding score Jay Chattaway graced the film with. The great, but not outstanding, dialogue levels fill out the front speakers well. Those who are fans of the 5.1 track on DVD will appreciate the upgraded sound.
The Blu-ray release of Maniac has so many extras, an additional DVD was required to cram them all in. On the Blu-ray itself are two feature length commentaries. Recorded in July, 2010, the first commentary is a two man show with Co-Producer/Director William Lustig and Co-Producer Andrew W. Garroni. Who would have guessed that Garroni's work on Dario Argento's Inferno is what helped fund Maniac? Lustig's candid information on the hotel where Frank takes a streetwalker gives some interesting depth to location as well as characters. The men go back and forth with various stories about the origins of the film, stopping at times to comment about specific events in the film as it plays. When compared to the second commentary, Lustig and Garroni bring a bit more of a laid back, technical feel to the track. The second commentary track has Lustig sitting down with Special Make-Up Effects Artist (and Actor) Tom Savini, Editor Lorenzo Marinelli, and Joe Spinell's Assistant Luke Walter. The information on this track overlaps with the first commentary from time to time, but the additional participants provide more information and bring a great energy to what could have easily been repetitive. Oddly enough, there are more lulls during this track. While there is more joking and lighthearted banter, it is surprising that the additional voices don't produce a more fluid commentary track. There are also four featurettes, all in 1080p. Anna and the Killer (13:08) is a recently shot interview with actress Caroline Munro. In addition to her thoughts on Maniac, she educates viewers with her filmography and how she was led by Joe Spinell to the project. The Death Dealer (12:11) sits down with the gore king Tom Savini. Besides getting some great information on Disco Boy's death (which is what most of us really want to hear about), Tom also reveals that even he has a line that can be crossed. Dark Notes (12:13) is a featurette about the film's score with Composer Jay Chattaway. Similar to Caroline Munro's interview, Jay gives us his back story and how he ended up working on 'Maniac'. Jay is a bit drier. Even though the information is great, I would recommend starting with this featurette if you plan to watch them all. Maniac Men (10:38) is a pure surprise. Evidently, there is some controversy about whether or not the song 'Maniac' (featured in Flashdance) has an alternate version that was actually intended for Maniac. William Lustig brings Songwriters Michael Sembello and Dennis Matkosky together for some candid thoughts about the origins of the song and the urban legend which surrounds it. Rounding out the first disc are various trailers, TV spots, radio spots for Maniac (480p to 1080p depending on the extra) and the Mr. Robbie: Maniac 2 promo reel (7:28) in 1080p. This promo reel does an excellent job wetting the appetite for what could have been an outstanding sequel. (For a little fun, there is also an Easter egg on the disc ported over from a previous release. If you find it, hear William Friedkin talk about Maniac for less than a minute.)
Disc Two is a DVD that is also packed with extra features. The highlight is certainly The Joe Spinell Story (49:12). Would you like to see Joe Spinell console Steven Speilberg? It is here. The documentary also talks with various actors and directors about their memories of Spinell and his uncanny way of bringing people together. While this feature could easily have been a long plug for Maniac, it succeeds as a look into the world of an actor who many wish was still around. The rest of the features are categorized as 'Maniac Publicity' or 'Maniac Controversy'. On the publicity side, Paul Wunder Radio Interview with William Lustig, Joe Spinell, and Carline Munro (19:11) discusses violence in the film. The radio interview keeps the DVD menu on the screen throughout its runtime. William Lustig on Movie Madness (47:18) is a 1981 interview that also has the director fielding calls from the 'adoring' public. Some love the film and some hate it, but the sometime awkward discussion is worth a watch. Grindhouse Film Festival Q&A (22:20) is a modern day introduction by Lustig, Andrew Garroni, and Sharon Mitchell to a recent screening of Maniac at the Beverly Cinema. Joe Spinell on The Joe Franklin Show (13:13) is a joy to listen to. After some discussion on 'tipping' waiters, the discussion kicks into high gear regarding Maniac. Joe simply knows how to tell stories and work the panel. The publicity is completed with a Caroline Munro TV interview (2:54), Barf Bag Review Policy (2:10), Joe Spinell at Cannes (0:44) and a still gallery. While all of these short features are nice, Barf Bag Review Policy had me laughing aloud. Katie Kelly is a bag of bones who obviously didn't like Maniac or Blood Beach. She reminds me of Aunt Linda, the movie review character Kristen Wiig portrays on Saturday Night Live from time to time.
'Maniac Controversy' showcases negative publicity the film received from all parts of the United States. Los Angeles starts things off with Channel 7 News (2:19), Channel 11 News (1:35), and NBC Tomorrow Show (3:55). Chicago and Channel 2 News (2:14) shows how Maniac is invading the streets by showing scenes on a television outside of the theater. Philadelphia sounds off a bit more with Channel 10 News (0:29), Channel 3 News 6pm (1:13), Channel 3 News 11pm (0:51), and Channel 6 News (0:54). Newsbeat offers a bit more substance with a piece on 'Violent Movies' (12:45) and 'Movie Violence' (8:27). Both cover the impact violent films have on society. I found them to be a highlight reel of great film clips with some random thoughts in between. Midnight Blue contributes Al Goldstein Rants against Violent Movies (3:54) and Al Goldstein Mutilates His Love Doll (2:39). He takes his fairly controversial approach to preach to viewers about violence in film. The 'Controversy' still gallery has some great quotes from critics with a strong hatred for Maniac.
It must be nice to have the director of 'Maniac' also be the president of Blue Underground, the company who distributes this Blu-Ray Disc. Blue Underground does for grindhouse flicks what Criterion does for art house films by giving fans everything they could ask for and more. Nothing was held back as this release manages to improve on the outstanding limited edition Anchor Bay tin from 2001 – which director Bill Lustig produced also. The wealth of extras compliment a stellar audio and video presentation that push 'Maniac' from a 'must rent' to a 'must buy'.