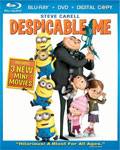 Despicable Me (2010)
Universal Home Video
Cast: Steve Carell, Miranda Richardson
Extras: Commentary Track, Mini-Movies, Featurettes, Recipes, Games, Digital Copy
Rating:
2010 was a really good year for animation. Some of the best animated movies of the past years have arrived in theaters this year, including highlights such as "How To Train A Dragon" and Toy Story, " and the wonderful "Despicable Me," which is available on Blu-Ray Disc now, courtesy of Universal Home Entertainment.
Gru (Steve Carell) is an evil genius. A mastermind who can outdo any other villain on the face of the earth. Or so he thinks… until someone steals the great pyramid of Gizah. Determined to better the loser, whoever he might be, Gru comes up with a plan that is so outlandish, even that Bank of Evil is not convinced he'd be able to pull it off. He wants to steal the moon. All it takes is a shrink gun…
Charming and absolutely hilarious, this movie had me giggling all the way through. It is mostly the character of Gru that makes the movie so enjoyable, as for all his villainy, he is really a very likable guy. Maybe it's because he fails so many times – no one wants to lose to a complete nerd the way he does constantly – or maybe it is just because underneath the facade of evil, he is actually a nice guy with a heart. Fleshed out to perfection, with subtle emotions and hints at what is really going on in his head, Gru makes the movie fun, and funny. Everyone else is simply becoming staffage next to him, including the little minions, which were clearly devised to provide additional comic relief. They are not really needed, though, because Gru himself has all the depth, drama and hilarity in him that makes this movie the funniest film I have seen in a very long time.
The movie is presented in a spectacular 1080p high definition transfer that shines in every aspect. Since this is an all-digital transfer, there are no defects or blemishes and every tiny little bit of detail that has been painstakingly inserted and rendered by the artists made its way flawlessly onto this presentation. Colors are vibrant and rich, making this film a beauty to watch, just as the solid black levels give the picture good visual depth.
The audio is presented in a DTS 5.1 HD Master Audio track that simply rocks. It is energetic, modern and makes aggressive use of the surround channels to create a presentation that is over-the-top bustling at all times. dialogues are well integrated and always understandable, making sure you will enjoy every bit of the film without problem.
As extras you will find a commentary track on the disc that is both informative and funny, as it features the movie's director and some of the minions. There are also three mini movies on the disc, featuring the Minions in additional adventures. These films are funny and definitely worth checking out, though the lack of Gru in the films is definitely noticeable.
A lot of other bonus materials are included on this release, including the featurette about the voice cast of the film, cookie recipes and other aspects of the film. Many of these features are playful to make sure to cater to the movie's main audience – the kids.
The Blu-Ray version also includes the DVD version on a second disc and a Digital Copy of the movie on a third disc.
"Despicable Me" is funny, funny, funny. Not in a silly, stupid sense, but in a way that is charming and somehow smart. Likable characters, and enjoyable story and top production quality, all make "Despicable Me" a movie you should take note of.