Avatar: Three-Disc Extended Collector's Edition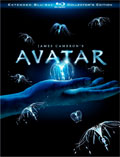 Avatar: Three-Disc Extended Collector's Edition (2009)
20th Century Fox Home Entertainment
Cast: Sam Worthington, Zoe Saldana, Sigourney Weaver
Extras: Documentaries, Featurettes, BD-Live
Rating:
Raise your hand if you thought 20th Century Fox was going to give 'Avatar' a barebones release and move on. Now put a hammer in that raised hand and hit yourself in the head. Besides being the highest grossing film of all time, James Cameron is known for releasing extended cuts of his movies. Fortunately for fans, these extended cuts are usually better than the theatrical counterparts. Once I saw the additional scenes restored in 'The Abyss' (which still needs a Blu-Ray upgrade), I could never go back to the theatrical version. The same goes for 'Terminator 2'. After seeing 'Avatar' in IMAX 3D, I was not only curious how the film would hold up with a second viewing, but also if the film could still 'Wow' me in only two dimensions. I've trusted James Cameron for over twenty years, how can I not give 'Avatar' a second look?
For a movie synopsis, check out Guido's coverage of the barebones release here. The first disc in this unbelievably extensive set contains three cuts of 'Avatar'. The theatrical cut has been seen by the vast majority of the population, so the real treats here are the extended cuts of the film. Whether you choose the 'Special Edition Re-Release' or 'Collector's Extended Cut', prepare for 'Avatar' to not necessarily be better, rather enhanced. Think of it like an encore at a concert. Those who dig the music are excited about the extra material and the chance to prolong the experience, but don't expect the gesture to convert haters into fans. The scenes feel like they belong in the final product as they build upon the world of Pandora and explore some minor plot points that had been cut due to time constraints. These cuts of the film are just the first disc in what 20th Century Fox and James Cameron have put this together as a love letter to fans of the film.
'Avatar' was a spectacle in IMAX 3D. Personally, I thought some of that magic would be lost by watching the film at home. I was wrong. The 1.78:1 AVC encoded 1080p transfer is breathtaking. The level of detail and vivid colors help pull viewers into the world of Pandora. The depth that the 3D experience provides is obviously not as extensive in 2D, but this pristine high definition transfer still succeeds by giving the lush greens of Pandora enough detail and sharpness to create an enjoyable visual experience. As mentioned earlier, the additional scenes fit perfectly within the film. There are no moments like Anchor Bay's 2001 extended release of 'The Wicker Man' where additional scenes are added in, but in a noticeably lower quality. The extended footage in 'Avatar' adds to the film in a seamless way with the beauty one would expect from a release of this magnitude.
Along with the stellar video quality, it's almost not fair that 'Avatar' also sports reference quality sound. The DTS-HD Master Audio 5.1 track compliments the stunning visuals in a beautiful way. With all of the machinery and action in the film, viewers will feel their speakers getting a workout. Cross channel effects are great as arrows fly across speakers, allowing the rear channels to get in on more action. Despite all of the aircraft and effects, the dialogue level is balanced to perfection. There is not an unintentional moment where a character's voice is drowned out by the action. An underrated highlight of the track is ambience. Pandora is not only rich in beauty, but sounds as well. The camera may not focus on the many alien creatures that inhabit the jungle, but this DTS-HD track certainly picks them up. 'Avatar' is an experience, and the top notch audio and video qualities enhance the film in a magical way. The disc also has a Dolby Digital 5.1 Family Audio track that makes 'Avatar' more kid friendly. I appreciate the inclusion of the track, but it certainly isn't on par with the default DTS-HD mix.
For those who don't have an extra three hours to sit down and re-watch a movie, the first disc gives direct access to the new and extended scenes found in the extended cuts of 'Avatar'. All are in 1080p (to match the feature film) and are broken down by 'Special Edition Re-Release' (17:12) or 'Collector's Extended Cut' (33:19).
A feature that can be found on all three discs is the BD-Live Exclusives. With internet access, fans can access the following features in 720p:
• Speaking Na'vi Rehearsal Footage (6:41)
• Weta Workshop: Walk & Talk Presentation (11:09)
• Crew Short: The Night Before Avatar (4:44)
• Screen Test – Sam Worthington and Zoe Saldana (14:13)
• Screen Test – Stephen Lang (4:34)
• Screen Test – Giovanni Ribisi ( 3:12)
• Screen Test – Joel David Moore (4:12)
• Screen Test – CCH Pounder ( 4:49)
• Screen Test – Laz Alonso (6:51)
Evidentially, James Cameron and Jon Landau plan to update the material, giving this release of 'Avatar' even more replay value.
Disc Two
The 'Deleted Scenes' are presented in 1080p. All other features are in 1080i.
'Deleted Scenes: Never Before Seen' (1:07:51) After watching a 178 minute movie (or two versions that aren't much shorter), most won't be itching to see an hour plus of deleted scenes. These twelve scenes are prefaced by the 'User's Guide For Viewing Avatar Scenes With Unfinished Shots' (3:12). It gives a brief rundown of what is onscreen (or not yet onscreen) during these scenes. Viewers will be given a quick 'before and after' to see how green screens and post production trickery play a part in the final product. The deleted scenes are a collection of extended scenes that were trimmed for the final cut and scenes that have not been revealed until this release. The scenes, deservingly left on the cutting room floor, can be viewed all together or chosen separately. Viewers will be informed exactly what effects are missing from each scene before it starts.
'Capturing Avatar' (1:38:26) is one of the best featurettes I have seen. Covering nearly every aspect from pre to post production, James Cameron (along with a lot of cast and crew members) take viewers on a journey that really enhances the film. It is easy for moviegoers to sit back and be blown away by effects without thinking twice about all of the work involved. To see how technology was created specifically to make 'Avatar' is to see an artist truly chase his vision. In addition to the outstanding footage, the mini reunion between James Cameron and Sigourney Weaver was a treat. The 'Aliens' footage has me longing for a copy of 'Alien Anthology' on Blu-Ray.
'A Message From Pandora' (20:12) focuses on the political commentary In 'Avatar' by following James Cameron to the Xingu Basin in Brazil as he helps a tribe fight to keep the Belo Monte dam off of their land. The dam would cripple the tribe's way of living and the results of the dam being built could also negatively affect the earth and 20,000 residents from another nearby town. It is hard not to see Cameron in a positive light as he embraces the culture and uses his celebrity status to practice what he preaches in 'Avatar'.
'Production Materials' (1:24:25) highlights fourteen different pieces of behind the scenes footage that was integral in the development of 'Avatar'. From an amazingly detailed art reel and motion capture tests to screen tests and multiple looks at VFX progression, there is a lot to take in with the 'Production Materials'. Some of the footage is seen in 'Capturing Avatar' and the featurette is a bit dry when compared to the previous two, but there are some gems hidden within the runtime. The fourteen sections of this feature can be played all together or individually.
Disc Three
The 'Featurettes' are in 1080i. All other features are in 1080p.
'Scene Deconstruction' (1:05:21) allows viewers to watch seventeen different scenes in three stages of production. Using your remote control, the scenes can be viewed as the final product (with a picture in picture reference showing motion capture), as a template (very early computer animation), or just motion capture footage. This is like a clever twist on the multiple angle features that rarely makes it to mainstream DVDs or Blu-Ray. It is impressive to see how much imagination the actors must use before the effects are added in.
There are also seventeen featurettes that are on disc three. Just like 'Avatar' is given an extended treatment, these featurettes are basically extended versions of some of the material covered in 'Capturing Avatar' on disc two.
• Sculpting Avatar (3:46)
• Creating the Banshee (9:51)
• Creating the Thanator (3:20)
• The Amp Suit (4:31)
• Flying Vehicles (5:13)
• Na'vi Costumes (4:14)
• Speaking Na'vi (6:37)
• Pandora Flora (5:40)
• Stunts (5:14)
• Performance Capture (6:32)
• The 3D Fusion Camera (3:43)
• The Simul-Cam (2:18)
• Editing Avatar (6:59)
• Scoring Avatar (6:06)
• Sound Design (8:50)
• The Haka: The Spirit of New Zealand (5:17)
Each featurette must be chosen individually. While some may see this material as a bit of a double dip within the set, the additional footage does help flesh out thoughts and ideas for specific areas of interest that fans of the film may have.
'Avatar Archives' proves that this release is a true dedication to fans of 'Avatar'. It includes 1080p versions of the theatrical and teaser trailers, text versions of the 'Original Scriptment' and screenplay, 'Pandorapedia' (449 pages of information covering anything and everything related to Pandora) and 'Avatar: The Songs' which gives six pages of lyrics to songs from the movie and translates them from Na'vi to English. Rounding out the 'Archives' are over 633 high definition images listed under 'The Art Of Avatar'. The images are categorized in the following order:
• The World of Pandora
• The Creatures
• Pandora Flora
• Pandora Bioluminescence
• The Na'vi
• The Avatars
• Maquettes
• Na'vi Weapons
• Na'vi Props
• Na'vi Musical Instruments
• RDA Designs
• Flying Vehicles
• AMP Suit
• Human Weapons
• Land Vehicles
WOW! This release is amazing. 'Avatar' is picked apart with no stone left unturned. 20th Century Fox has raised the bar on Special Edition releases by not only packing this Blu-ray set with dozens of features, but supplying fans with quality information that adds a great deal of depth to a groundbreaking film. Coupled with three cuts of 'Avatar' in reference quality audio and video, this set is easily a must buy. Fans who rushed out for the barebones release will never be happier to double dip.