Prince Of Persia: The Sands Of Time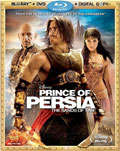 Prince Of Persia: The Sands Of Time (2010)
Buena Vista Home Entertainment
Cast: Jake Gyllenhaal, Gemma Arterton, Ben Kingsley, Alfred Molina
Extras: Deleted Scene, CinExplore, Making-of Featurette, DVD version, Digital Copy
Rating:
Blockbuster summer movies have become synonymous with overblown special effects orgies in which there is typically little room for story and character development, as more and more action seems to have to take place on the screen at any one time. Many of these films have become painfully shallow and nauseatingly furious, as they seem to abandon all rules of traditional filmmaking. I was expecting the same thing from "Prince of Persia," particularly after seeing the movie's trailer, but was nonetheless intrigued enough to check out the Blu-Ray version when it arrived here.
Based on the computer game franchise, "Prince of Persia" tells the story of prince Dastan (Jake Gyllenhaal) who is falsely accused of having killed his father with a poisoned robe. Before he has the chance to explain and investigate he is forced to flee the city with the rival princess Tamina (Gemma Arterton) in tow. As he tries to prove his innocence, Dastan realizes that he holds a powerful artifact in his possession, an item that allows him to turn back time. It could be vital in his quest to redeem himself and find the real killer.
While, as expected, "Prince Of Persia" is a special effects fest in which 95% of all images you see are digitally enhanced or completely computer generated, I was glad to see that the film managed to retain a modicum of storytelling and more importantly, created a series of characters that are interesting and engaging. This is achieved with a nice sense of humor that is never on the banal side and instead is more a wink of self-deprecation reminding viewers not to take this whole affair too seriously. After all, it is popcorn entertainment, designed to entertain and nothing more.
Jake Gyllenhaal and Gemma Arterton have a nice chemistry on the screen, but without a doubt it it Alfred Molina who steals the show in this film as the ruthless Sheik Ahmar. but overall, the film features a solid cast that help bring the story alive despite the CGI heavy backdrops, ultimately making "Prince Of Persia" an enjoyable romp from beginning to end.
Arriving as a 3-disc Blu-Ray/DVD combo, the release features a 1080p high definition transfer that is nothing short of breathtaking. Coming straight off the digital masters, the transfer is free of any defects and boasts a level of detail that truly lets your Blu-Ray equipment shine. Sharp edges, even the tiniest details, wonderful textures and rich colors, all are part of this presentation that will sweep you away and into the ancient world of Persia.
The release features a DTS 5.1 HD Master Audio track, and unsurprisingly, it is a track that will make sure you don't forget why you invested so much money in your equipment and speakers. Bombastic, explosive and incredibly aggressive, this track makes constant use of the surround channels, bombarding the viewer with effects and music cues from all directions. It is a very modern track in its mix, making sure to take full advantage of the discrete capabilities of the DTS audio format. The dynamic response of the track is phenomenal with a balanced mix throughout, while at the same time offering a solid frequency response with a very low bass extension and crystal-clear high ends. Dialogues are well integrated and always understandable.
Among the extras on the release you will find a deleted scenes and Disney's CinExplore feature. While it may not sound like much, CinExplore is a feature that gives you access to 40 featurettes covering all sorts of aspects of the movie, its history and its making.
On the second disc of the set you will find the DVD version of the movie, complete with a making-of featurette called "The Unseen World," while the third disc contain's a digital copy of the movie.
"Prince Of Persia" is pure popcorn cinema, that's for sure, but unlike some of the other blockbusters of recent years, I found this one surprisingly gratifying and generally well-conceived. So, check it out when you have the chance.