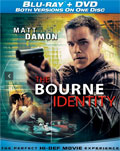 The Bourne Identity (2002)
Universal Home Video
Cast: Matt Damon, Franka Potente, Chris Cooper
Extras: Commentary Track, Featurettes, Deleted Scenes, Alternate Opening and Ending, Music Video, and more
Rating:
It's been released on Blu-Ray before, but now Universal Home Entertainment is offering "The Bourne Identity" as a combo disc, featuring both the DVD version as well as the high definition version on one disc, the way they used to handle some titles in the days of HD-DVD.
"The Bourne Identity" is a stunning thriller of a man trying to find his own identity after he's been fished out of the water, unconscious and amnesic, in front of the French coast. As he tries to unravel his past he finds that a lot of people seem to want him dead, as everywhere he goes, quickly someone with a gun shows up, pointing it right at him. For some reason however, he is always capable of handling the situations, and piece by piece he puts together his past… a past he'd rather forget.
Based on a novel by Robert Ludlum, "The Bourne Identity" is truly a magnetic thriller that has been put together extremely well. With Matt Damon in the lead, wonderfully supported by Franka Potente, the film has a central character that is strong, yet vulnerable, helpless at times, yet somehow always capable, and most of all, always interesting to watch. The movie's cinematography and the European backdrops add immensely to the film's quality and as a whole, we have a rock-solid who-am-I? thriller here that leaves little to be desired. It has action, romance, emotions, chases, explosions, intrigue, double-crossing spies, assassins and a furious pace.
The Blu-Ray version features a great-looking 1080p transfer that is free of defects or blemishes. At times, the image appears a little dark, still, but for the most part it is a splendid presentation that certainly does justice to the grittiness of the film. The image is sharp but without edge-enhancement and grain is at a minimum throughout.
Black levels are solid creating deep blacks that are balanced by solid highlights that never bleed. Color reproduction is absolutely perfect, nicely reproducing the film's rich color palette without problems. Skin tones are always natural and faithfully rendered. No edge-enhancement is evident in the transfer and the compression has also been handled quite well.
The audio on the release comes comes as an explosive DTS 5.1 HD Master Audio track in English and French. The audio is very aggressive, making very good use of the format's capabilities by constantly using the split surround channels to create ambient effects, to enhance effects and give them spatial placement and to render a sound stage that is incredibly wide at times. The frequency response is wide with solid, deep basses and clean high ends. Dialogues are properly integrated and are never drowned out by the sound effects or the film's wonderful music.
A large number of bonus materials have been included on this release, including countless small featurettes hovering around the 5-minute range each, as well as a few longer ones that take a bit of a closer look at the production. Among these featurettes are a 5-minute featurette sheds some more light on Robert Ludlum, the creator of the Bourne character and other thriller novels. Featuring interviews with his editor, a close friend and some archive interview footage they manage to shed a bit of additional light on the late writer.
A 4-minute interview featurette with screenwriter Tony Gilroy is also included, as he talks about the Bourne trilogy of novels and his approach to take them to the big screen.
Then there's a 3-minute interview segment with Matt Damon and Franka Potente as they talk about their characters in the film. Another 3-minute interview clip with a psychiatrist covers aspects of amnesia while "Covert Ops" tries to cover the world of special agents and the CIA in under 5-minutes.
Using the car chase scene in the film, "The Speed Of Sound" discuss how the sound track of a movie is created and how some particular effects have been created. In an interactive segment viewers can then do their own mix of the scene as Universal provides multiple sound elements to for free-mixing. I found it tricky to navigate though and was particularly unable to return to the main menu.
"Inside A Fight Sequence" takes a look at some of the stunts in the film by providing behind-the-scenes footage of the preparation for the embassy fight sequence. A music video, production notes and biographies round out the release.
Also included is a commentary track by director Doug Liman as he discusses the making of the film in quite some detail. Since he is not part of any of the featurettes, it is nice to hear his stance on the film in this track.
Deleted scenes as well as the alternate opening and opening ending from the previously released "Extended version." Moby's music video is also included on the release, though it should be noted that all of these extras are presented in standard definition.
As high def extras you will find a picture-in-picture video commentary track on the release that makes use of a lot of the featurettes to relay its information while viewing the film. The "Treadstone Files" and "Bourne Orientation" are additional U-Control features included on the release giving you more interactive access to information about the characters and the film.
You will also find Universal's BD Live Center here which gives you access to additional materials online.
When you flip over the disc you will find the DVD version of the release, which is presented in standard definition and will play on any DVD player. While reviewing this release we could not find any compatibility issues with the release as some people feared, and both versions played without problems on a variety of players.
"The Bourne Identity" is a killer movie and deserves to be seen. If you don't own it yet, give this Blu-Ray DVD combo a try, particularly if you may need a Blu-Ray version at home and a DVD version while traveling, for example. There is a lot of stuff on this release and the overall quality is excellent.