11/10/2008

Buy Black Jack Pro for the iPhone and get the PC version fo free!
  Here is a bit of exciting news for all those of you who call an their own and actually like to play on the device once in a while.
Word just came down from our sister company, , that owners of the iPhone or iPod touch version of can of the game for their desktop PCs. All you would have to do is get the game from Apple's AppStore, write a short customer review and let G3 Studios know about it.
Sounds too good to be true? Click here for all the details and the company's official webpage explaining the details of the special sale.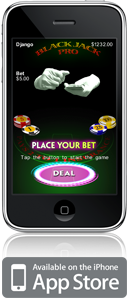 ---
---
---