Prepare for the Fox Horror Classics Volume Two in September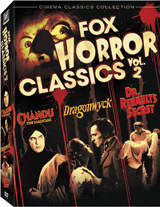 Unearthed from the vaults, three of Hollywood's finest and scariest movies are unleashed for the first time on DVD from 20th Century Fox Home Entertainment in September as part of the lauded Fox Cinema Classics Collection. Featuring performances from menacing horror icons Bela Lugosi and Vincent Price, plus the smoldering Gene Tierney, among others, the Fox Horror Classics Volume Two 3-disc DVD set includes three terrifying films – Chandu The Magician, Dr. Renault's Secret and Dragonwyck – each of these horror classics has been restored and remastered and features in-depth bonus materials including behind-the-scenes featurettes, restoration comparisons, trailers and more.
Based on the addictively popular radio serial, "Chandu The Magician" stars the legendary Lugosi in a stunningly photographed thriller about an ingenious inventor with plans to dominate the human race – at all costs.
In "Dr. Renault's Secret", a scientist's remote villa in the French countryside leads to a forbidden terror for anyone who encounters it.
And lastly, multiple Academy Award-winner Joseph Mankiewicz directs an all-star cast of Hollywood legends, including Gene Tierney, Walter Huston and the original master of horror Vincent Price in "Dragonwyck", a riveting, atmospheric tale of gothic secrets and forbidden love.
Look for the "Fox Horror Classics Volume Two" on September 9 for only $19.98.