Superbit Deluxe titles make their debut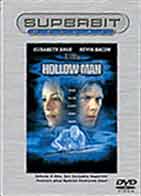 Columbia TriStar Home Entertainment is attempting to raise the bar again with two new titles to launch their Superbit Deluxe line. Like the Superbit line of DVDs, the new deluxe versions will use every available bit of space on a DVD for the video and audio quality. The new deluxe discs will contain a second disc of extras, just like any other two-disc special edition. The first to titles in the line are The Patriot and Hollow Man.
In 1776, widower and legendary war hero Benjamin Martin finds himself thrust into the midst of the American Revolutionary War as he helplessly watches his family torn apart by the savage forces of the British Red Coats. Unable to remain silent, he recruits a band of reluctant volunteers including his idealist son Gabriel, to take up arms against the British. Fighting to protect his family's freedom and his country's independence, Martin discovers the pain of betrayal, the redemption of revenge and the passion of love.
Disc one will of course contain no features, but only an anamorphic widescreen transfer and audio in Dolby Digital 5.1 and DTS 5.1. Disc two will feature a visual effects interactive featurette, the battlefield featurette "The Art Of War", "The True Patriots" featurette, deleted scenes with commentary by Roland Emmerich, conceptual art-to-film comparisons, a photo gallery, direct weblink, filmographies, theatrical trailers and talent files.
After several years of experimentation, Dr. Sebastian Caine, a brilliant but arrogant and egotistical scientist working for the defense department, has successfully transformed mammals to an invisible state and brought them back to their original physical form. Determined to achieve the ultimate breakthrough, Caine instructs his team to move on to Phase III: human experimentation. Using himself as the first subject, the invisible Caine finds himself free to do the unthinkable. But Caine's experiment takes on an unexpected turn when his team can't bring him back. As the days pass, he grows more and more out of control, doomed to a future without flesh as the Hollow Man.
Disc two of the new set includes the HBO featurette "Anatomy of a Thriller",three deleted scenes, theatrical trailers, filmographies, "Fleshing Out The Hollow Man" behind-the-scenes featurettes and VFX picture-in-picture comparisons.
Both titles will be available on May 28th with a suggested retail price of $28.95 each.